Instagram lets you turn off likes on your own posts and other people's posts. To maintain uniformity, Instagram 2022 for iPhone and Android now allows users to hide the number of likes on Instagram reels.
Though most creators wouldn't want to hide likes and views on their reels for obvious reasons. At the same time, there are users who like to have more control and choose what works best for them. For instance, some users simply prefer to show views instead of likes on Instagram reels.
Can I hide the number of likes on Instagram Reels?
Don't want to show how many likes your reel has got or want to hide the like count on your reels?
Similar to posts, Instagram lets you hide like counts on your own reels when you share them as well as after posting. The procedure to hide and unhide likes on reels is very similar to how you hide likes on an Instagram post.
When you hide likes on Instagram reels, the number of likes on a particular reel will be only visible to you. Note that you cannot turn off the like count on other people's reels and it's not possible to hide views on Instagram reels, either.
Interestingly, you can turn off reel likes using the Instagram app for iPhone and Android as well as Instagram's desktop website on a computer.
Now let's see how you can hide your likes on Instagram reels in 2022.
How to hide like count on Instagram Reels
Follow the steps below to turn off likes on your Instagram reel before sharing.
Make sure you're running the latest version of the Instagram app.
Create a new reel or select an existing reel from Reels Drafts.
Tap the "Advanced settings" option at the bottom of the Share screen.
Turn on the toggle for "Hide like count on this reel".
Go back and share the reel or save it as a draft.
Voila! The total likes will now be completely hidden in the Instagram app for other people.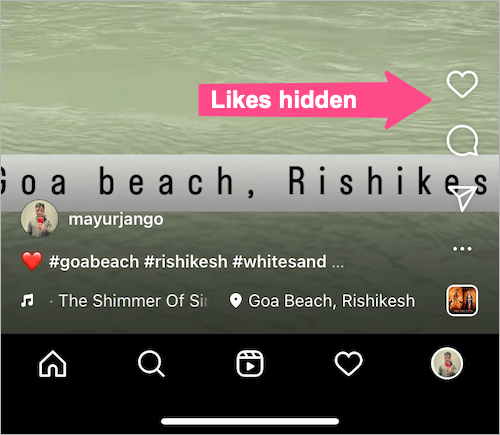 How to hide likes on Instagram Reels after posting
Did you forget to change the hide like count setting while posting or changed your mind afterward? Worry not, you can still hide likes on your published reels. To do so,
Go to your profile and open the Reels tab.
Open the reel whose likes you want to hide.
Tap the ellipsis icon (3-dots) at the bottom right.
Go to 'Manage' and tap the "Hide likes" option.
That's it. The likes count will be hidden for everyone but you can still see them.
To verify the same, simply tap the numeric text below the Like button (heart icon). An 'Only you can see the total number of likes on this reel' text will appear, implying the reel likes are hidden.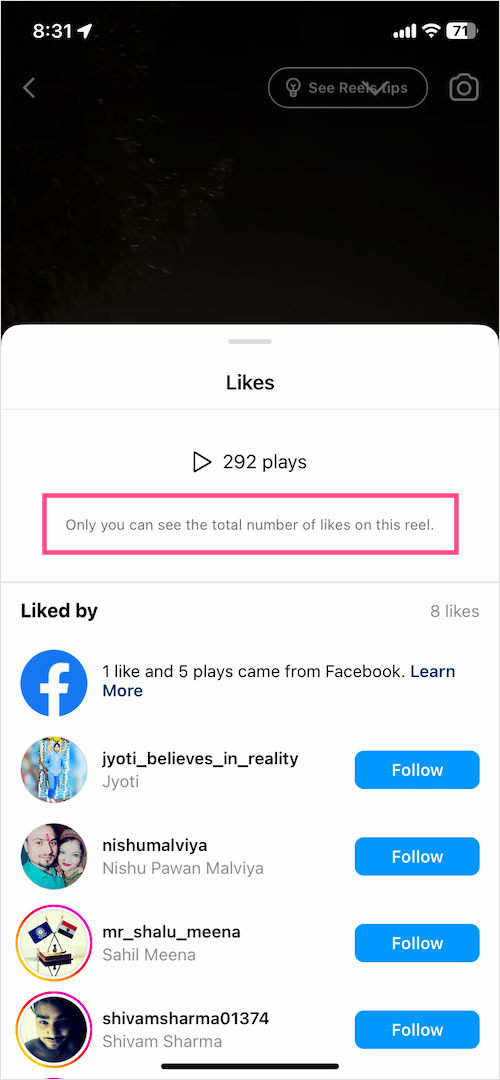 In a similar way, you can unhide like count on Instagram reels to show like count again.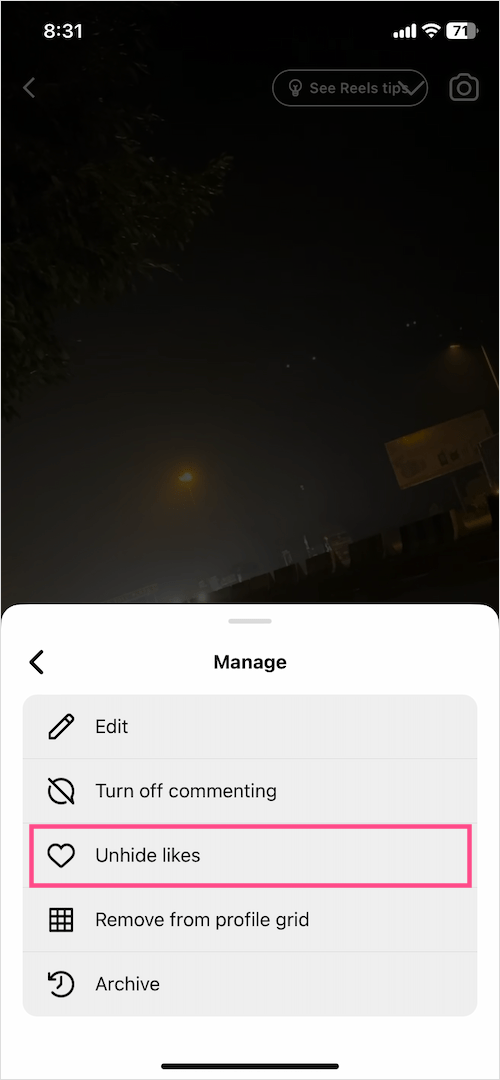 On Computer
Visit instagram.com in a browser on your computer and log in to your account.
On the Instagram website, click your profile picture and go to "Profile".
Go to the "Reels" tab and open the reel whose like count you want to hide.
Click the "ellipsis icon" (3-dots) at the top-right.
Select the "Hide like count" option to turn off the like count.
Note: One can still view the list of people (up to some extent) who liked a certain reel.
Hope you found this article helpful. Do share your comments below.