While Instagram lets you turn off likes on your own posts and other people's posts. That said, there is no option to hide the number of likes on Instagram reels. Though most creators wouldn't want to hide likes and views on their reels for obvious reasons. At the same time, there are users who like to have more control and choose what works best for them.
Can I hide likes on Instagram Reels after posting?
Don't want to show how many likes your reel has got or want to hide the like count on your reels?
Unlike posts, Instagram doesn't let you hide like counts on your own reels when you share them. Luckily, we have found a workaround to hide likes on Instagram reels. Note that you cannot turn off the like count on other people's reels and it's not possible to hide views on Instagram reels, either.
Also, there is no way to turn off reel likes through the Instagram app for iPhone and Android. You instead have to visit Instagram's desktop website on a computer or mobile to do the said task.
Now let's see how you can hide your likes on Instagram reels.
How to hide like count on Instagram Reels
Visit instagram.com in a browser on your computer and log in to your account.
On the Instagram website, click your profile picture and go to "Profile".
Go to the "Reels" tab and open the reel whose likes you want to hide.
Click the "ellipsis icon" (3-dots) at the top-right.
Select the "Hide like count" option to turn off the like count.
Voila! The total likes will now be completely hidden in the Instagram app.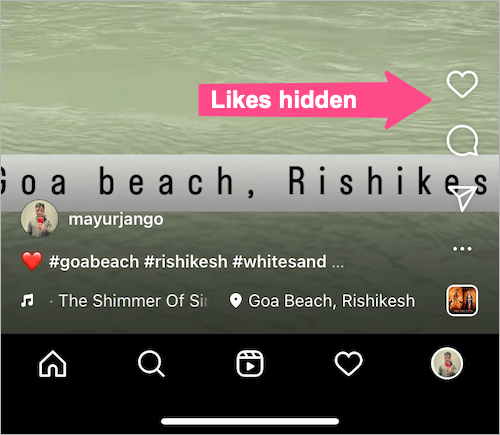 Note: One can still view the list of people (up to some extent) who liked a certain reel using Instagram's web version.
On iPhone and Android
Visit instagram.com/accounts/login in a web browser such as Safari (on iPhone) or Chrome (on Android).
Log in to your Instagram account if you aren't already.
Select "Request Desktop Website" (in Safari) or "Desktop site" (in Chrome) to launch the desktop version of Instagram.
Tap the profile picture and select 'Profile'.
Go to the 'Reels' section and open a particular reel.
Tap the 3-dot icon at the top-right corner and select 'Hide like count'.
That's it. Similarly, follow the above steps and select 'Unhide like count' instead to unhide likes on a reel.
How to still see total likes on your own reels
While no one else can, you can still see the total number of likes you got on your Instagram reel after hiding it. This too is only possible through the Instagram desktop website. The likes count won't be directly visible under your reel post though.
To see how many likes your reel got, simply tap on others and find the total like count in the popup window.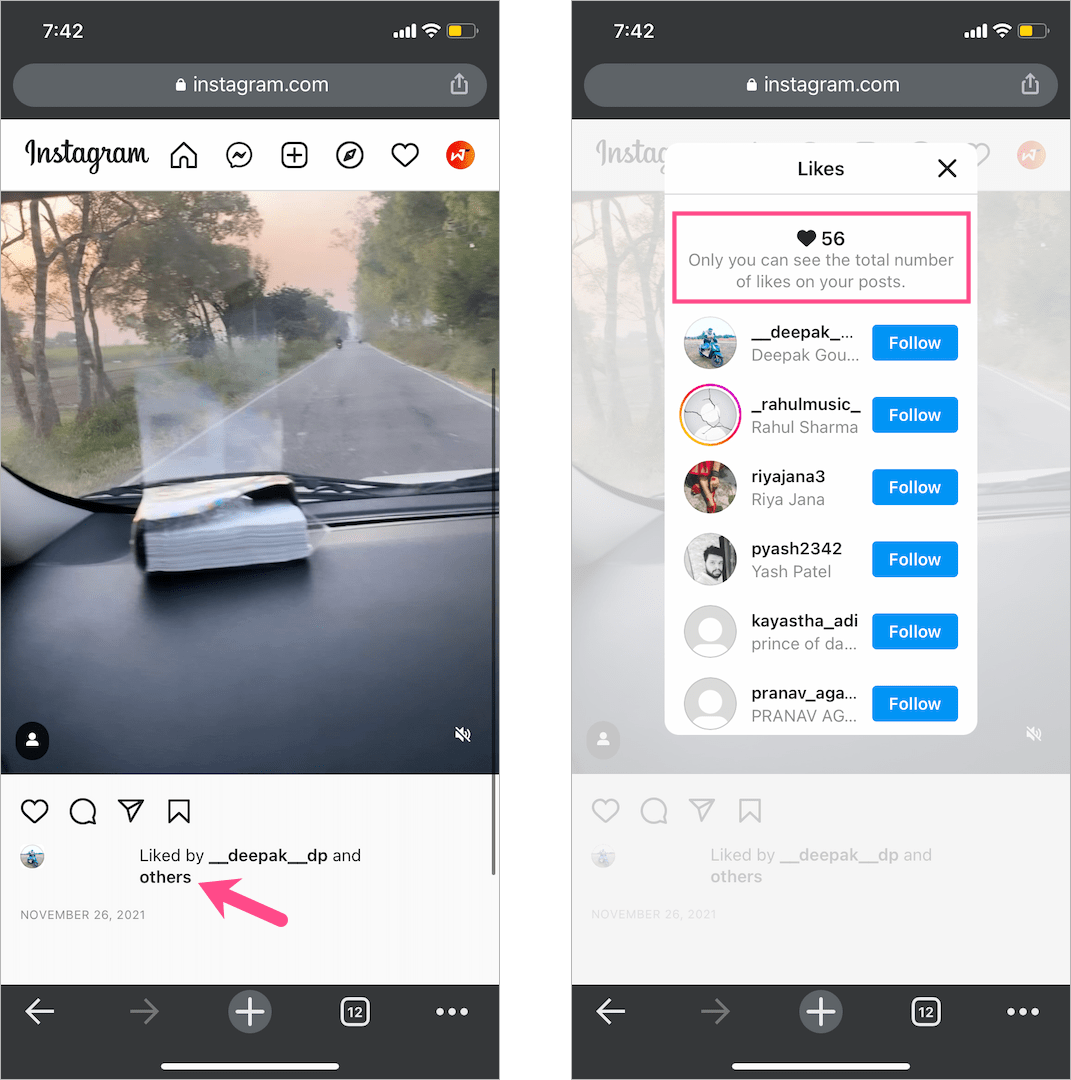 Hope you found this article helpful. Do share your comments below.