Instagram is testing a new feature wherein the users can decide whether they want to hide likes or not. Rather than forcibly hiding like counts, the new option gives users more control and lets them choose what works best for them. So, now you can choose whether you want to see likes and views count on posts made by others. In addition, you can also turn off the like count on your own posts.
Since this feature is currently in a test phase, the setting to turn off likes on Instagram isn't available to everyone. Moreover, you cannot opt-in to test Instagram's new hide like counts feature since this is a server-side update. The company is currently rolling it out globally for a small percentage of users.
How to get Instagram's hide like counts update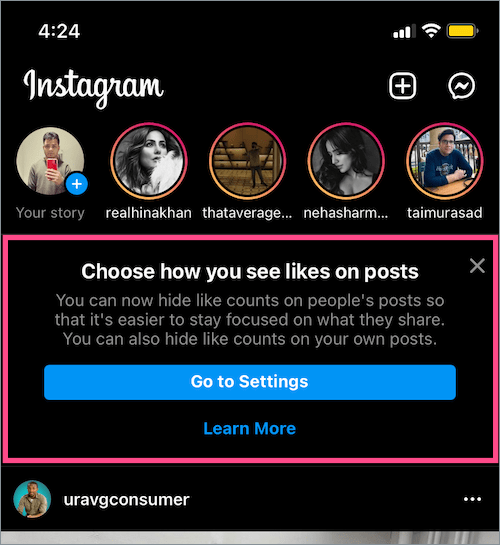 Luckily, I got the new feature last night as an update within the Instagram app. Just make sure you have the latest version of Instagram installed on your device. Once the update is available, a "Choose how you see likes on posts" banner will appear at the top of your Feed. Simply tap "Go to Settings" to get the hide like and view counts setting in the Instagram app.
If you dismiss the notification by mistake, then just force-close Instagram from recently opened apps on your iPhone or Android phone. Then open the app again and you should see the new option in settings.
Now let's see how you can hide or unhide Instagram like count on others as well as your own posts.
How to turn off like count on other people's posts
Make this change if don't want to see the total number of likes and views on posts from other accounts that appear in your timeline. To hide like count on Instagram,
Tap the Profile tab at the bottom right and then tap the menu button at the top right.
Navigate to Settings > Privacy > Posts.
On the Posts page, turn on the toggle button next to "Hide Like and View Counts".
Voila! The total likes and views will now be hidden in your Insta Feed. You can however still view the full list of people who liked a certain post and can even search the list by their name or username.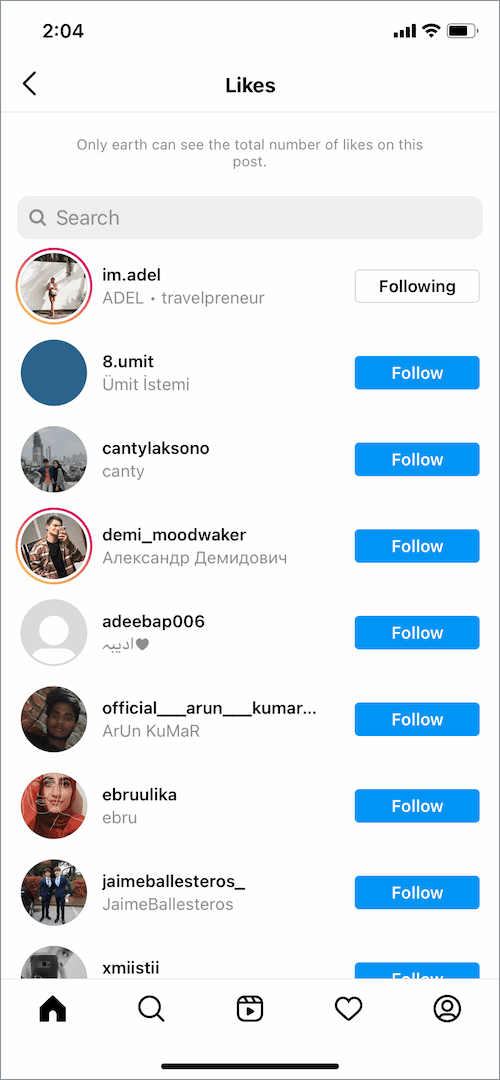 To see the list of likes on a post, just tap others or Liked by under the post.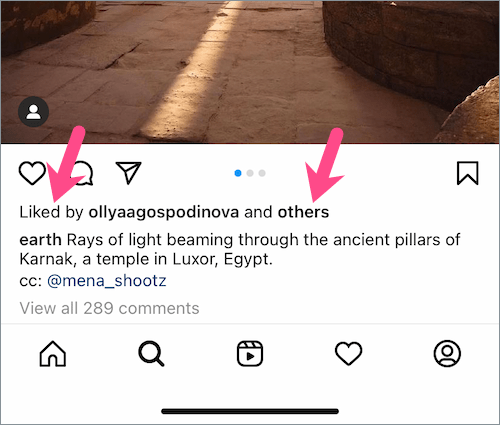 Video posts still show likes and views
After disabling the like counts, I noticed that likes and views continue to appear for videos posted on Instagram. They don't appear in the Feed though. Here's an example that shows both the views and likes on a certain video.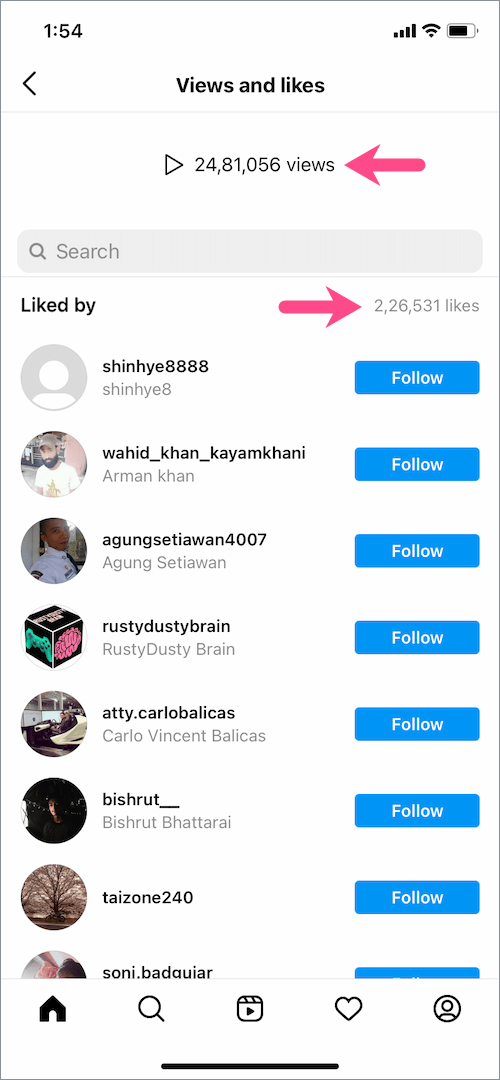 I'm not sure why they are visible since the setting to hide counts is turned on. This could be a bug or an intentional move by the Instagram team.
ALSO READ: How to see the number of views on Instagram Reels
How to hide likes on your own Instagram posts
You can even hide likes from your followers on Instagram if you need to. Having said that, you can still see the total number of likes and views on your own posts. Note that you can turn off like and view counts on individual posts only since there is no default setting to make this change.
To turn off your like count on Instagram before sharing your post,
Tap the "Advanced settings" option on the Share screen.
Turn on the toggle for "Hide like and view counts on this post".
Go back and share the post.
After sharing – You can still hide your like count in case you forgot to change the like count setting before posting or changed your mind afterward.
For this, go to your profile in the Instagram app and open the particular post. Tap the 3-dots shown at the top-right side of your post. Select "Hide Like Count" or "Hide like and view counts".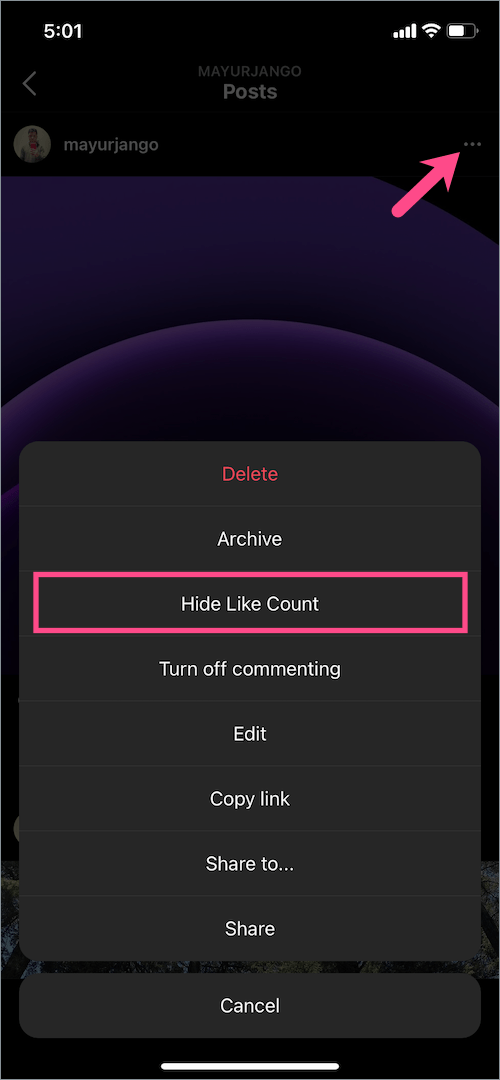 ALSO READ: How to Hide Likes on Instagram Reels
How to still see total likes on your own posts
While none of your followers can't, you can still see the total number of likes you got on your Instagram posts. That said, the likes count won't be directly visible under your post.
To see how many likes your post got, simply tap on others and check the total like count on the next page.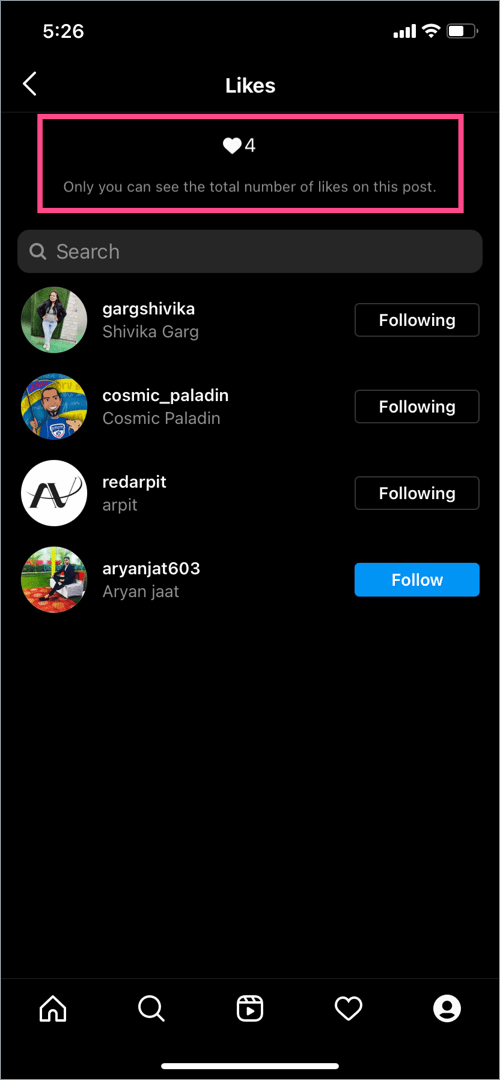 How to unhide Instagram likes on your own posts
If you want to get like count back on your Instagram posts at any point in time then that's possible too.
To unhide likes and views on a post already shared by you, go to the Posts section in your profile and open the specific post. Tap the 3-dots at the top-right of the post and either select "Unhide like count" or "Unhide Like and View Counts".
Hope you found this article helpful. Do share your views below.
ALSO READ: How to find your Reel drafts on Instagram