Amazon Prime is a membership program for Amazon.com customers that offers you unlimited fast shipping, such as FREE Two-Day shipping and One-day shipping for $3.99 per item on all eligible purchases for an annual membership fee of $79. Amazon Prime members can enjoy instant videos: unlimited, commercial-free, instant streaming of 5,000 movies and TV shows through Amazon Instant Video at no additional cost.

Eligible customers can sign up for a trial membership by visiting Amazon Prime Free Trial page, or look for free trial offers when you check out and on product pages. You'll need a current, valid card to sign-up which won't be charged for your free trial. Also, Free-trial members enjoy all the same benefits as paid members.
Certainly, it's a good idea to opt for Amazon Prime program but only if you often shop at Amazon for products that are not eligible for Free super saver shipping. I recently signed up for Amazon Prime trial and it came to me as a surprise that I'd be charged $79 automatically after the end of Amazon Prime trial, thus freaking me out.
Point to Notice: If you rarely use Amazon for shopping goods online and have opted for Amazon Prime in a hurry, then consider checking the below points, you might not know:
When signing-up for Amazon Prime you need to add a valid Card.
Amazon Prime trial membership offers a Free fully-functional trial for 1 month
Amazon Prime will automatically upgrade you to a paid membership plan at the end of your free trial period, thus charging $79 for paid annual membership.
How to Prevent from being automatically upgraded to Paid membership –
Now, if you're not interested in getting annual membership then it's advisable to opt out just after signing or at any time during the free trial period. To do so,
1. Login to your Amazon account.
2. Go to the Manage Your Prime Membership page and click "do not upgrade" option. Now select the option that says "Turn off auto-upgrade". That's it!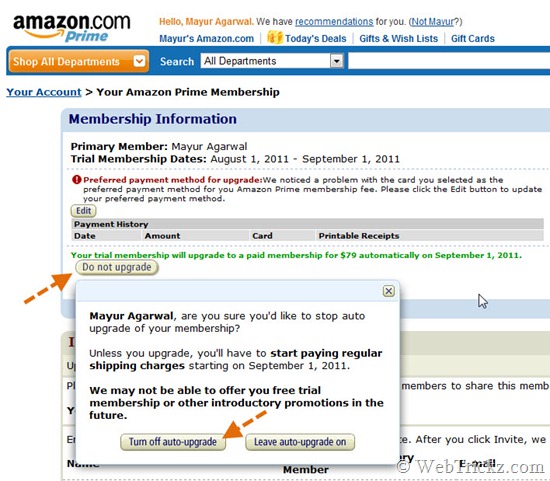 3. A message will appear in red 'Your membership is set to not upgrade automatically.'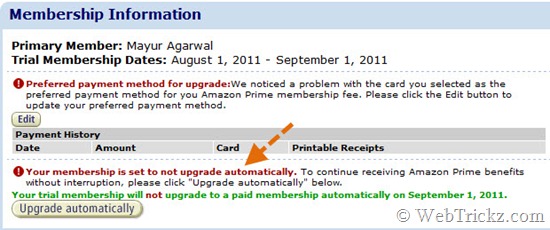 Note: You'll continue to enjoy your Amazon Prime benefits until your free trial period is over. Then your membership will automatically cancel. Your card will not be charged.
Furthermore, you can choose to "Upgrade automatically" anytime to continue receiving Amazon Prime benefits without interruption.