Google now considers site speed aka page loading time of a site or blog while listing results in its search engine rankings. If you're a site owner or webmaster then you must find and evaluate the page speed of your website/site and take appropriate actions to improve it. Use the below tools to Find Page speed or Site speed:

Page Speed – To use it, you need to have Firefox with Firebug add-on installed. Then install the Page Speed add-on. After installing, just open the desired webpage in Firefox and click the firebug button from status bar > open Page Speed tab > and click Analyze Performance button. You'll then be shown a Page Speed Score of that specific page.
See WebTrickz got a Page speed score of 87/100 which is pretty good.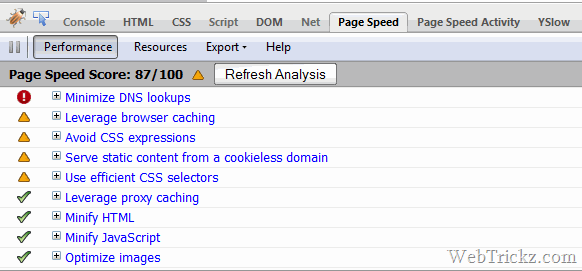 YSlow – YSlow is a similar free tool from Yahoo which Grades your web pages and suggests ways to improve website speed. To use it, you must have Firefox with Firebug and YSlow add-on installed. Open firebug and tap YSlow tab > Run test to use it.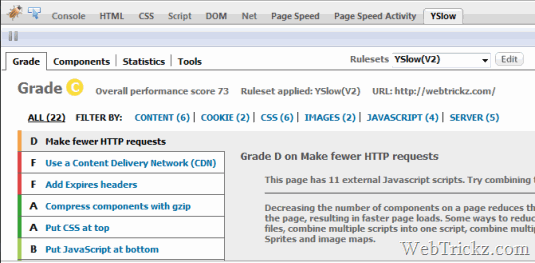 Grade based on the performance of the page (you can define your own rule set)
Summary of the page Components
Chart with statistics
Tools for analyzing performance, including Smush.it and JSLint
Webmaster Tools – You can also use Google webmaster tools to see how much time, pages on your site take to load on an average. To analyze this, visit Webmaster Tools Labs > Site Performance and see the Performance overview chart.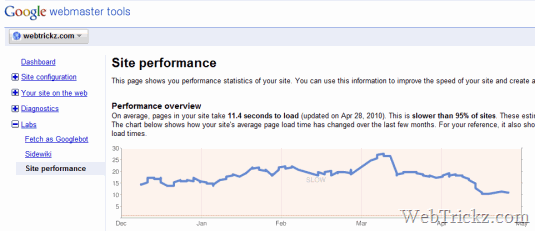 >> Hope the above tools can help in improving the speed of your site and provide a faster web experience to your readers.