Xiaomi smartphones such as Mi 3, Mi 4, Redmi 1S, and Redmi Note come pre-loaded with MIUI ROM that offers plenty of interesting features and customization options. In case, you're interested in running AOSP ROM (based on Android 4.4 KitKat) on Mi 3, then you're lucky! Reportedly, a developer at Xiaomi named 'Ivan' has managed to release AOSP ROM for Mi 3 WCDMA/ CDMA and Mi 4 with minimal mods. The ROM is compiled using the official kernel source, includes support for over-the-air (OTA) updates, and is pretty stable without any visible bugs. The AOSP ROM for Mi 3 is in Chinese but can be easily changed to the English language. It includes 'Advanced settings' for Mi phones such as the option to configure battery style, show network speed, adjust screen color, and switch CPU power modes. The ROM comes with minimum apps, thus offering users a Nexus-like pure Android experience on Mi 3 and Mi 4. It also has Superuser Root enabled by default so you can run ROOT apps directly.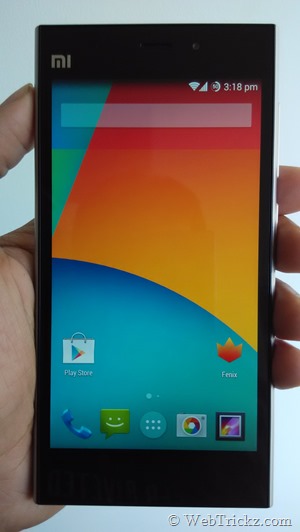 ROM Features: Percentage battery indicator, Toggles optimized, SIM contact management, FM Radio supported, Double click to sleep, Data speed display, Keyboard LED control, OTA update, Google Camera, Call noise reduction, Display color calibration, Running mode settings, and Superuser Root.
Below, you can find the step-by-step guide to flash AOSP Android 4.4 ROM on Mi 3. The guide also includes instructions to change the ROM to English language and install prominent Google applications like Gmail, Play Store, Hangouts, and Google Settings via Gapps.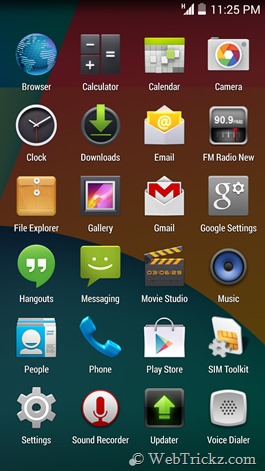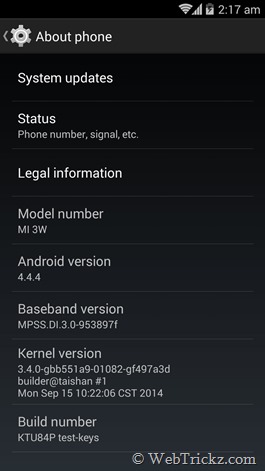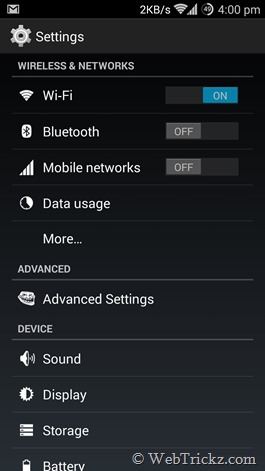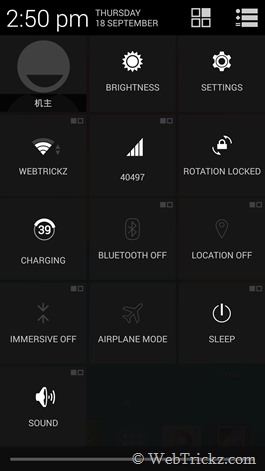 NOTE: This procedure won't delete your media such as files, photos, music, etc. All other settings, apps, and data will be deleted. It's recommended to backup all your important data. Tip: You can take a Nandroid backup of your device via CWM recovery and restore it later, in case you revert back to MIUI ROM. (Make sure to transfer the backup folder to the computer).
Guide to Install AOSP ROM on Xiaomi Mi 3 –
Step 1 – Install CWM recovery by Ivan (For Mi 3 WCDMA version). Download here.
To install CWM on Mi 3, open the updater app, press the menu button, and then click "select update package". Select the 'Mi3-W-C-Recovery-2014-08-04-EN.zip' and install it.
Step 2 – Download the required files:
Qcom-mi3w_ivan-4.9.15-DAvnljin6r-4.4.4.zip (AOSP ROM for Mi 3) – 235 MB
Slim_mini_gapps.4.4.4.build.7.x-187.zip (Slim Gapps package for Mi 3) – 56 MB
Then transfer both the above files to the root directory (/sdcard) of your phone.
Step 3 – Flashing AOSP ROM on Mi 3 using CWM Recovery
Reboot into CWM Recovery (Go to Tools > Updater > press Menu key and select 'Reboot to Recovery mode')
Choose 'System1' in the select system to manage. (Use the defined touch controls at bottom of the CWM screen to make your selection).
Select 'Wipe data/ factory reset' and confirm to wipe. (Wipe takes around 6-7 minutes)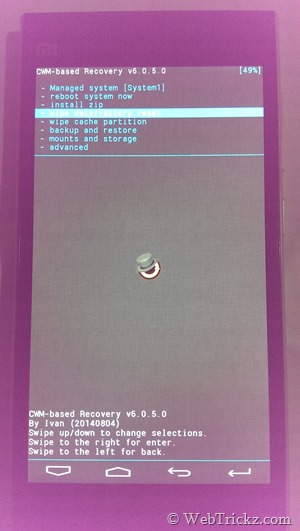 Select 'Wipe cache partition' and confirm. (Takes around 5 minutes)
Go to 'mounts and storage' and select the 'format /system' option. (Takes 5 minutes)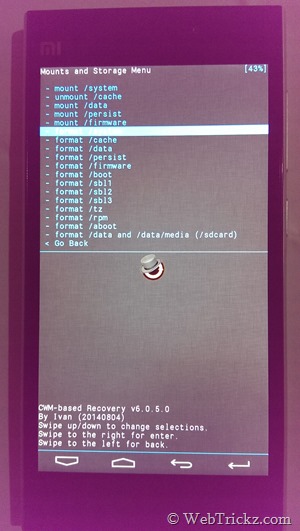 Go back and select 'Install zip'. Select 'choose zip from /sdcard', then 0/ and then choose the 'Qcom-mi3w_ivan-4.9.15-DAvnljin6r-4.4.4.zip' file and install it.
Now go back and make sure to Wipe data/ factory reset and Wipe cache again.
Reboot your phone by selecting 'reboot system now'. It will show stuff in Chinese, Don't worry! Just reboot back into recovery and similarly install the Gapps.zip file. (You don't need to wipe data and cache this time).
Changing the Chinese language to English –
Go to Settings > About phone, tap on Build number 7 times to enable Developer options. Then go into Developer options and turn it on.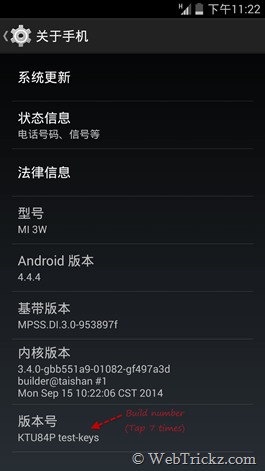 Go to Language and input, select the first option and choose 'Accented English'.
Install the 'MoreLocale2' app from the Play Store. Open MoreLocale2 and select Custom Locale. Choose the language as English and country as India, then click on Set. Click on the 'Use Superuser privilege' option and grant it root access. Then again set the custom locale.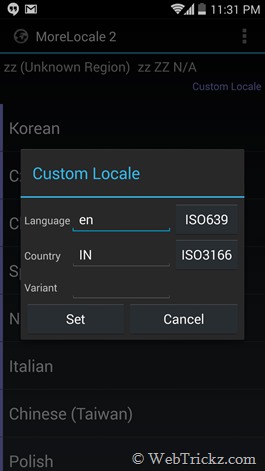 Reboot phone. That's it! Enjoy Stock Android 4.4.4 on your Mi 3 with OTA updates. 🙂
P.S. We've tried this procedure on Mi 3W (Indian version) and the AOSP ROM is working perfectly without any issues. Let us know if you've any questions!
Source: Ivan @3rdos , MIUI forum , Xiaomi Dev