Windows 8.1 Preview Now Available [Download]
At Build 2013 in San Francisco, Microsoft today announced the availability of Windows 8.1 Preview. Windows 8.1 is a free update for Windows 8 customers coming later this year through the Windows Store, and a pre-release version is available now for users interested in trying out many of the new features and improvements introduced with the preview. Windows 8.1 Preview include enhancements in personalization, search, apps, the Windows Store, cloud connectivity, and a lot more.
Windows 8.1 introduces new manageability, mobility, security, user experience and networking capabilities. It brings back the start button that opens up the Modern UI and options are available to boot directly to the desktop. It adds native 3D printing support and 3D maps! For more on features included in Windows 8.1, refer below links:
Download and Try Windows 8.1 Preview Now –
Note: Before proceeding to install, it should be noted that this preview is mainly for experienced PC users, and you might encounter errors as this isn't the final release.
If you're running Windows 8 Enterprise or the Windows 8 Enterprise Evaluation on your PC, you'll need to download the Windows 8.1 Preview ISO files.
The Windows 8.1 Preview can be either installed through the Windows Store or using the ISO (currently available to MSDN and TechNet subscribers only).
To install Windows 8.1 Preview, visit windows.microsoft.com/en-us/windows-8/download-preview, click Get the update button to download and install a small update that enables Windows 8.1 Preview update through the Windows Store.

After the update is installed, you need to reboot your PC. You will be greeted with a message to get Windows 8.1 Preview for free on logging back, to start with its installation simply press "Go to the Store."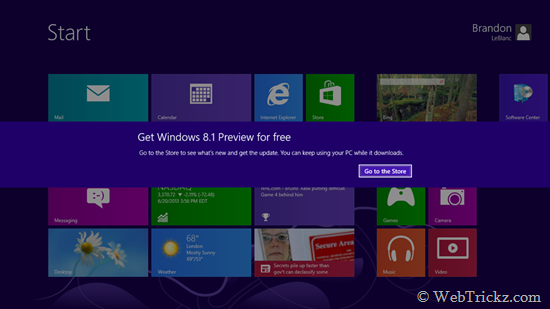 At the Windows Store page, click "Download" to install the Windows 8.1 Preview. The downloading will begin and before it installs, Windows will do a series of compatibility checks to make sure your PC can run the Preview.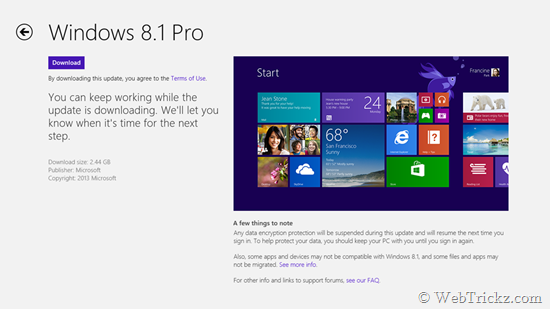 If everything goes fine, your PC may reboot a few times as the Preview installs. After the installation and initial setup, you're all set to explore fresh Windows 8.1. 🙂