iOS 14 or later features an all-new App Library so that people can well organize the apps on their iPhones. The App Library contains all the apps and automatically sorts them into categories such as Social and Productivity. Users can further hide app pages from iPhone's home screen for a clutter-free look.
That said, even though all apps are accessible through the App Library, the various app icons on home screen pages aren't hidden by default. Perhaps, if you have removed all the apps from your home screen then you can only open them either using the App Library, Spotlight search, or Siri.
Can I move all apps from App Library to Home Screen?
How do I launch apps directly from my home screen instead of searching or finding a particular app in the App Library? Well, you can simply add the desired app back to your home screen. Besides, it is possible to move multiple apps from App Library to Home Screen in one go. However, the procedure to mass add apps to the home screen isn't convenient.
At the same time, you can get all your apps out of App Library at once. Thankfully, there is an easy workaround to move all apps from App Library to Home Screen at once on iPhone. This saves the time and hassle of manually adding individual apps one by one to the home screen.
Now let's see how you can put hidden apps back to your home screen in iOS 14 and iOS 15. Before proceeding, note that this procedure will remove all the home screen widgets added by you.
How to add all apps to Home Screen at once from App Library
Follow the steps below to put all apps icons back on your iPhone home screen after removing them.
Go to the Settings app and tap "General".
Scroll down to the bottom and tap on "Transfer or Reset iPhone".
Tap on "Reset" at the bottom of the screen.
Select the "Reset Home Screen Layout" option from the list.
Tap on "Reset Home Screen" to confirm your selection.
That's it. Doing so will restore all the missing apps that might have disappeared from your home screen.
While pre-loaded apps from Apple will appear like when you bought the iPhone. Meanwhile, all the user-installed apps will be arranged in alphabetical order. The restored apps also include bookmarks (custom app icons) and website shortcuts as long as you haven't removed the app pages containing those bookmarks.
NOTE: To restore the default home screen layout in iOS 14,
Go to Settings > General > Reset. Select the "Reset Home Screen Layout" option and tap "Reset Home Screen" to confirm.
Unhide hidden home screen pages on iPhone
Alternatively, you can unhide app pages that you might have hidden after installing iOS 14 to enjoy the App Library. This should let you get your apps back from App Library without resetting the home screen. This however won't help if you have manually removed all the apps icons from your home screen pages.
To unhide a page from iPhone Home Screen,
Long-press an empty area on your Home Screen.
In Edit mode, tap the page dots in the bottom center of the screen.
Tick mark the circle under the app pages you want to unhide.
Tap Done at the upper-right corner.
RELATED: How to rearrange home screen pages in iOS 15 on iPhone
TIP: Change where newly downloaded apps appear
After updating to iOS 14, any new apps you download still appear on your home screen as they did earlier. Perhaps, if that's not happening then you might have modified a setting at some point in time.
To always show newly downloads apps on your home screen, go to Settings > Home Screen. Under 'Newly Downloaded Apps', select "Add to Home Screen" instead of "App Library Only".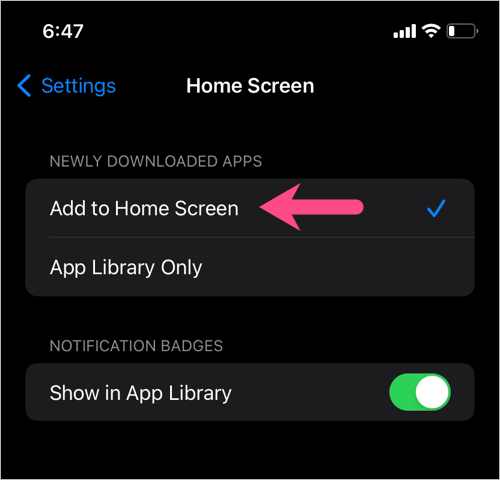 From now onwards, newly installed apps will appear on Home Screen as well as in the App Library.
RELATED: How to change the home screen on iPhone running iOS 15
Unrestrict apps not appearing anywhere on iPhone
If you have set a restriction for built-in apps then you won't be able to find the restricted app anywhere on your iPhone. This means the app will be hidden from Home Screen and you cannot find it using Siri, Spotlight search, or in the App Library.
To access the disabled app again,
Go to Settings > Screen Time.
Tap "Content & Privacy Restrictions".
Enter passcode (if asked) and make sure the toggle next to 'Content & Privacy Restrictions' is turned on.
Tap on "Allowed Apps".
Turn on the toggle button next to the disabled app to unhide it.
The app will now reappear on your home screen and you can even search for it.
ALSO READ: