A beautiful and eye-catching wallpaper plays an important role in the overall appearance of your smartphone. One must change the home screen or lock screen wallpapers periodically to make their device look fresh and cool. There are various sources for desktop wallpapers but those won't fit best on mobile or tablet unless they have the same screen resolution or aspect ratio as on your device. I've compiled up a collection of the best wallpaper apps for Android, available for free on Google Play. These apps pack amazing backgrounds from various categories and in different resolutions, including wallpapers featuring material design. Some of the below listed Android HD Wallpapers apps also offer 'Live wallpaper' functionality to automatically change wallpapers on Android at a specific time interval. Check 'em out below!
Tapet – HD Material Wallpapers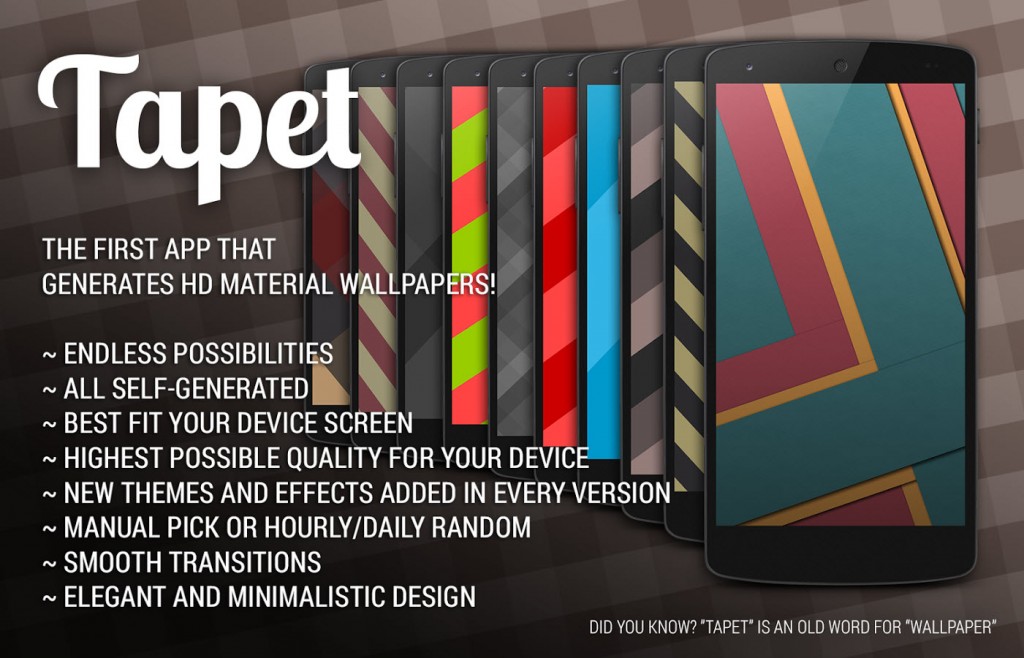 Tapet is certainly one of the best wallpaper generator apps that offers a gazillion wallpapers including Android Lollipop Material style ones. You can either select a random wallpaper or let the app automatically generate one for you hourly, daily, etc. The wallpapers are created according to the device in the highest possible quality. It offers a lot of options, effects like blur, saturation, textures, and lets you automatically save all applied wallpapers to the gallery. Moreover, Tapet is not a live wallpaper app, so no need to worry about CPU or memory consumption. The app tailors to your tastes as you can vote up or vote down the wallpaper, which helps it learn which colors and style you like. A must-have for Android! 
500 Firepaper is an app from XDA Senior Recognized Developer Chainfire. The app provides a live wallpaper and a daydream showing you the latest images from the image-sharing community 500px, throughout the day. One can configure the feature (popular, editor's choice, fresh, etc), categories displayed, refresh interval time, brightness, and blurring effect of the images. You can also use it as a daydream and settings are customizable. If you are a Muzei user, 500 Firepaper also presents itself as an art source to Muzei. However, you can't save images in 500 Firepaper as it's not allowed as per 500px API terms.
Muzei Live Wallpaper (Supports Android Wear & Plugins)
Muzei is a beautiful live wallpaper that refreshes your home screen every day with famous works of art, curated daily by Muzei team. It recedes into the background, blurs, and dims the artwork to keep your icons and widgets in the spotlight. The home screen with blurred artwork looks amazing and different. One can simply double-tap the wallpaper to explore the artwork in its full glory. Muzei also offers the ability to choose your favorite photos from a phone gallery or other installed apps (like 500 Firepaper) to use as home screen wallpaper. It will rotate through your favorite photos every few hours or you can choose the desired update interval. One can also customize the Blur and Dim parameters for photos.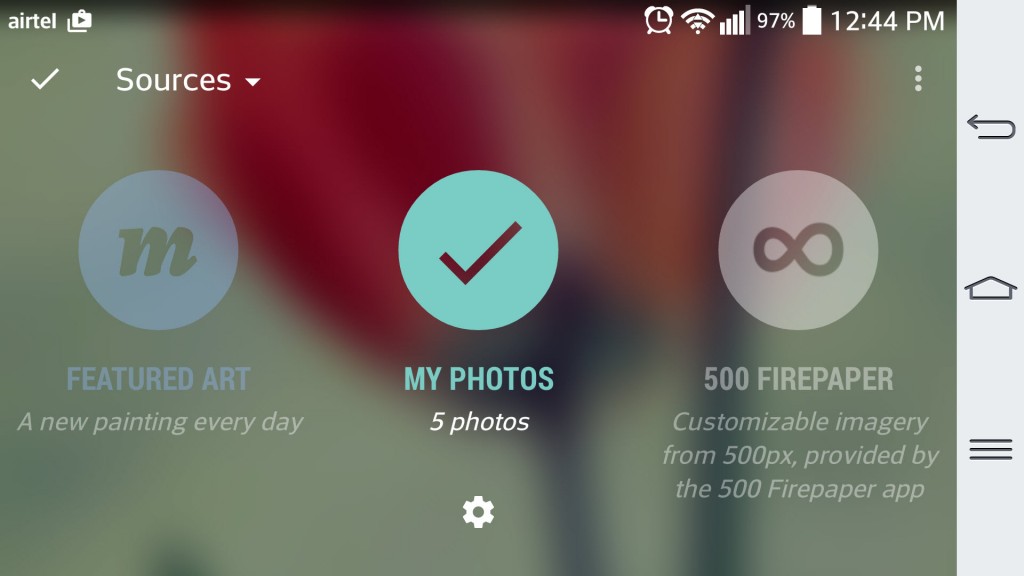 Muzei now includes a watch face for Android Wear, so you can see your latest wallpaper right on your wrist! Muzei also has extension support to make use of different sources for showing images on your device. Besides 500 Firepaper, it supports Flickr, APOD, Reddit, 1337walls, and Wall:Splash.
AndroidPapers.co (Website)
Papers.co is a great source for fantastic desktop wallpapers, hand collected and updated every hour. The site has a user-friendly interface and sleek design that makes it easier to navigate. It packs various collections of wallpapers and one can filter the images on basis of New, Popular, Daily best, All-time best. At the bottom are several tags to explore wallpapers from a particular category. The site has specific domains for every platform such as Desktop, Mac, iPhone & iPad, Android, iPhone 6 & 6 Plus. Users can download wallpapers for their desktop, laptop, smartphone, or tablet simply by selecting their device from the list and saving it.
Tip: To access the site quickly, simply visit www.androidpapers.co on your device in Chrome browser and add a shortcut for it to your home screen.
Material Wallpapers (Android L)
Material Walls was the first app to introduce high-quality handcrafted wallpapers featuring the famous Material Design / Quantum paper design seen in Android 5.0 Lollipop. The wallpapers are available in the perfect resolution for almost every device out there as almost all resolutions are supported. Unlike others, this is a standalone app that doesn't require you to download wallpaper afterward.
Wallmax
Wallmax, which sources its wallpapers from alpha.wallhaven.cc (successor to wallbase.cc) lets you search through thousands of wallpapers and download them in one click. The app has 'Auto Awesome' option that lets you change wallpapers automatically from a specific category. You can sort by type – Relevance, Random, Date Added, Views, and Favorites. It lists wallpaper details namely: dimensions, size, uploader, upload time, views, and favorites count. Users can also sort wallpapers by resolution and it also serves high-resolution wallpapers with a screen resolution of 2560×1440 (2K) and 3840×2160(4K). Wallmax features a material design and displays the resolution under each thumbnail, which comes in handy.
Wally
Wally is a nice app with fluid animations that uses the popular website Wallhaven (wallhaven.cc) as its source of wallpapers. You can browser random, popular and recent wallpapers including your saved ones within the app itself. The walls can be filtered by categories, resolution, and/or aspect ratio. The apps offers wallpapers in different resolutions such as 1920×1080, 2560×1440, 2560×1600, 3840×1080, 5760×1080, and more.
wall:splash | unsplash images
wall:splash is the cutting edge wallpaper app that uses unsplash.com as their image source, featuring over 2000 images. The app comes with muzei support, material design, and features wallpapers from different categories. The app has a beautiful interface but it doesn't offer an image rotation option.
ZEDGE offers free wallpapers, ringtones, and notification sounds to easily customize your device. A must-have if you're looking for something other than just wallpapers.
Do share your favorite wallpapers apps with us below!