Reels, the TikTok-copycat feature was initially launched on Instagram. Reels offer a smart and quick way to create short-form video content that is fun and visually entertaining.
Due to TikTok's ban in India, Instagram Reels has seen massive growth, especially in India. Perhaps, that's why Facebook introduced Reels on its own platform first in India back in March this year.
Besides, creators now have the option to recommend Instagram Reels on Facebook to expand their reach. Interestingly, Facebook is now launching Reels to all users in the US, on both iOS and Android.
Similar to Instagram, Reels on Facebook allow people to follow the creator, like, comment, share, and save a reel. The Save feature lets you save your favorite reels so you can easily watch them later.
That said, the procedure to find reels you liked and saved on Facebook is entirely different than that on Instagram. That's certainly because both apps have an entirely different user interface.
Perhaps, if you're new to Facebook Reels then you might find it difficult to see your saved reels. To help you, below are two ways that you can use to find saved reels on Facebook.
How to find your Saved reels on Facebook
Make sure you are running the latest version of Facebook.
Go to the Menu tab in the Facebook app and tap the "Reels" shortcut.
Tap your Facebook profile picture in the upper-right corner.
The "Reels" tab will display the reels you've posted on Facebook.
Tap the "Saved" tab to view all your saved Facebook reels.
That's it. You can also view your Saved audio and Saved effects in the Saved section.
On Desktop
Where are my saved Reels on Facebook desktop site?
Though you can't post reels from Facebook's website, you can however find your saved Facebook reels on a computer. To do so,
Visit facebook.com in a browser on your computer.
Go to "Saved" from the sidebar on the left. (Click on 'See more' if you don't see the Saved option.)
On the Saved page, click the 'Filter' button at the upper-right.
Select "Reels' to filter and see all your saved reels on a desktop.
Click on a reel title or cover image to watch it.
TIP: Tap the 3-dot button alongside a particular reel and select Unsave to quickly unsave it.
An alternate way to view saved Facebook Reels
Open the Menu tab and go to the "Saved" shortcut.
Under the 'Most Recent' section, tap the "See All" button.
Tap the "All" drop-down icon at the upper-right corner on the 'Saved Items' page.
Select "Reels" from the list.
All the reels saved by you on Facebook will now appear in chronological order.
Note that the Saved Reels are only visible to you. Also, the above-stated steps are applicable to both Facebook for iPhone and Android.
TIP: To unsave a reel, simply tap the ellipses icon next to the specific reel and tap the 'Unsave' option.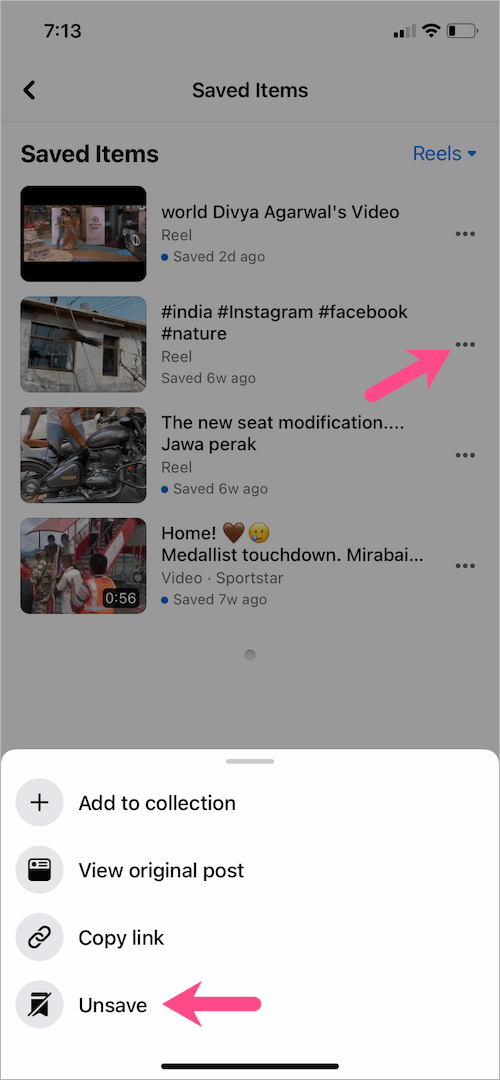 How to find your Liked reels on Facebook
Like Saved reels, Facebook lets you see all the reels liked by you in one place. Here's how you can view liked reels in case you want to rewatch a reel that you liked earlier.
Make sure to update the Facebook app to the latest version.
Tap the Menu tab and open the "Reels" shortcut.
Tap on your Facebook profile picture in the upper-right corner.
Tap the "Liked" tab to see reels you've liked on Facebook.
TIP: To unlike a reel, simply open the particular reel and hit the 'Like' button again.
RELATED: How to Find Reel Drafts on Facebook
Alternate way to see liked Facebook Reels
Go to the Menu tab, then tap Settings & Privacy > Settings.
Scroll down and tap "Activity log" under the 'Your activity' section.
On the 'Activity Log' page, tap the drop-down icon next to "Interactions" and select "Likes and reactions".
Here you can see all the Facebook posts including reels you've ever liked or reacted to.
To view the liked reel, tap the 3-dot icon next to its activity and tap 'View'.
ALSO READ: