Though you can hide your story from specific people, there is no option to hide reels from a specific person on Instagram. Ironically, Facebook the secondary platform for reels allows users to control who can see their reels.
Who can see my reels on Instagram?
An Instagram account is set to public by default. This means everyone including your followers can see and share your reels. Reels posted on public accounts may appear in the Reels tab, hashtag, and audio pages. Also, anyone on Instagram can freely record a reel using your original audio if you have a public account.
That said if your account is private then only your approved followers can view and share your reels. And if someone shares your reel to their story or in DM, only people who follow you will be able to see it. Besides, no one can use your original audio to record a reel.
So, how I can prevent a certain person from seeing my Instagram reels?
Though not possible natively, you can use a few workarounds to hide Instagram reels from one person.
How to hide Instagram reels from someone
To hide your reels on Instagram from a particular person, the best solution is to block that specific user.
To block someone on Instagram, go to their profile and tap the ellipsis icon (3 dots) at the top-right. Select 'Block' and choose Block again to confirm.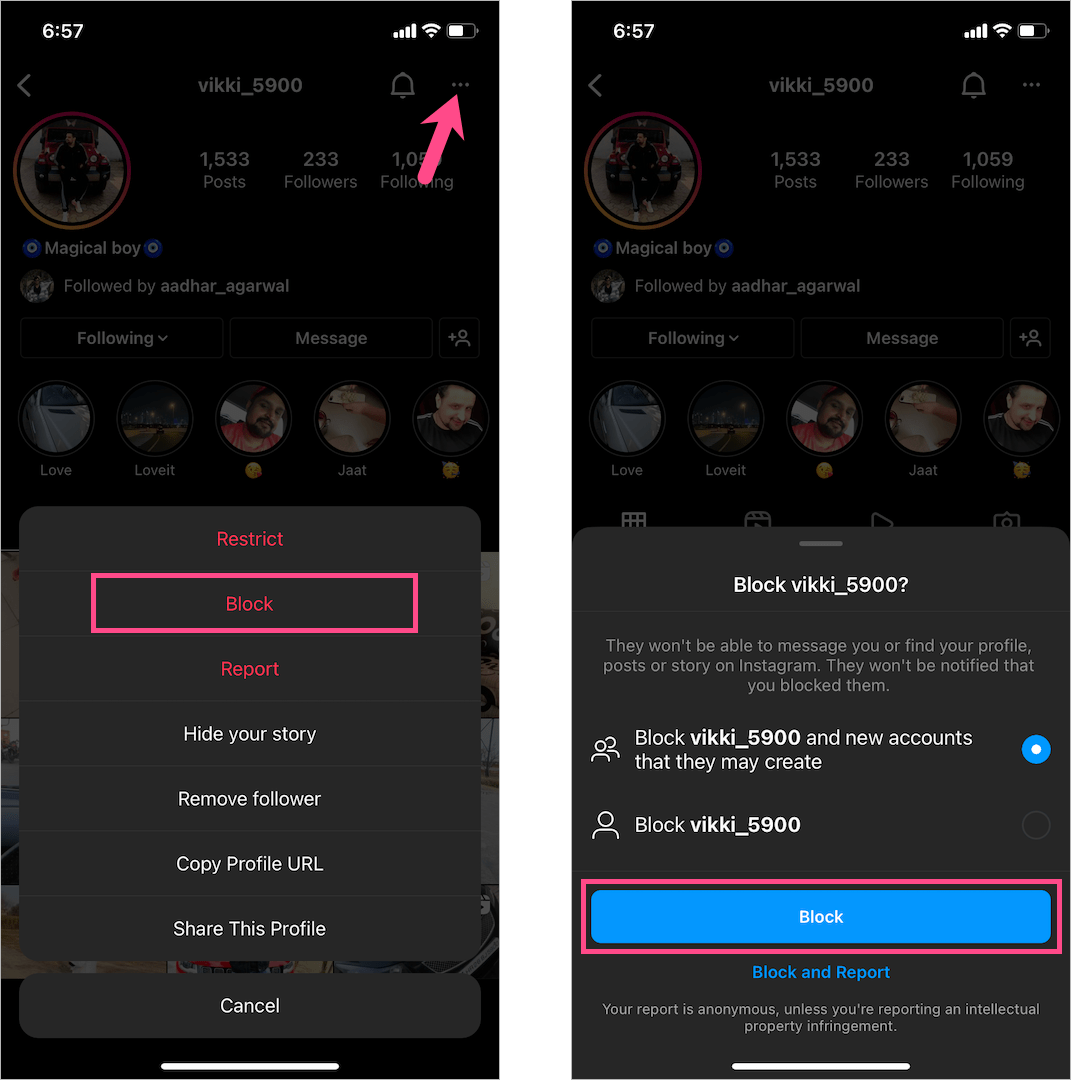 The blocked person now won't be able to access your reels, posts, or stories anymore. Instagram won't notify the person when you block them. Note that the person will also be removed from your followers, so you've to follow them again after unblocking.
Switch to a Private account instead if you don't want unknown people or non-followers to view your reels.
To make your Instagram account private, go to Settings > Privacy. Turn on the toggle next to 'Private account' and tap 'Switch to Private'.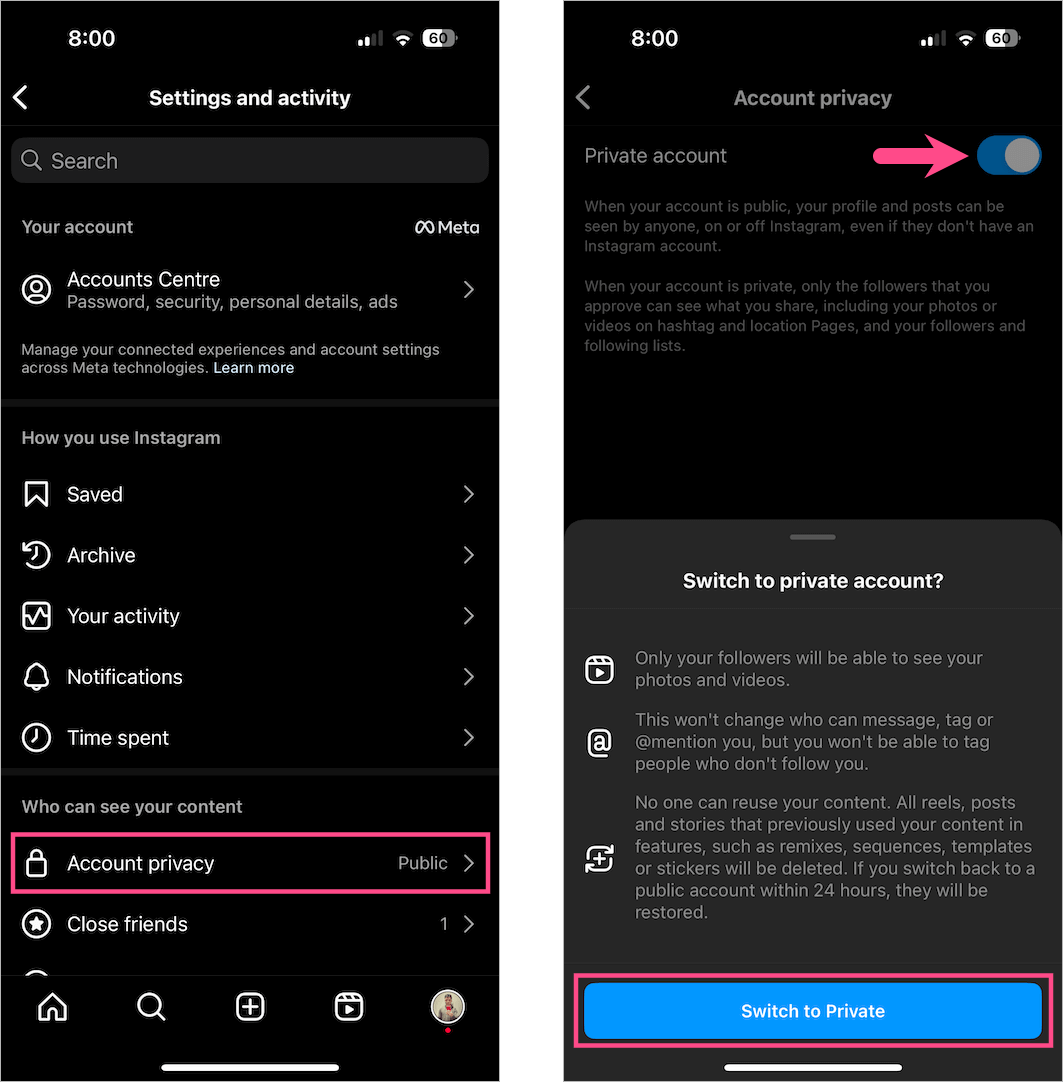 Now people who were already following you (on a public account) and new follow requests you approve will only be able to watch your reels.
TIP: If you want to hide your reels from an existing follower then that's possible.
To remove someone from your followers list, go to your profile and tap on 'Followers' at the top. Search for the person's name and tap on the 'Remove' button next to their name. Tap Remove to confirm.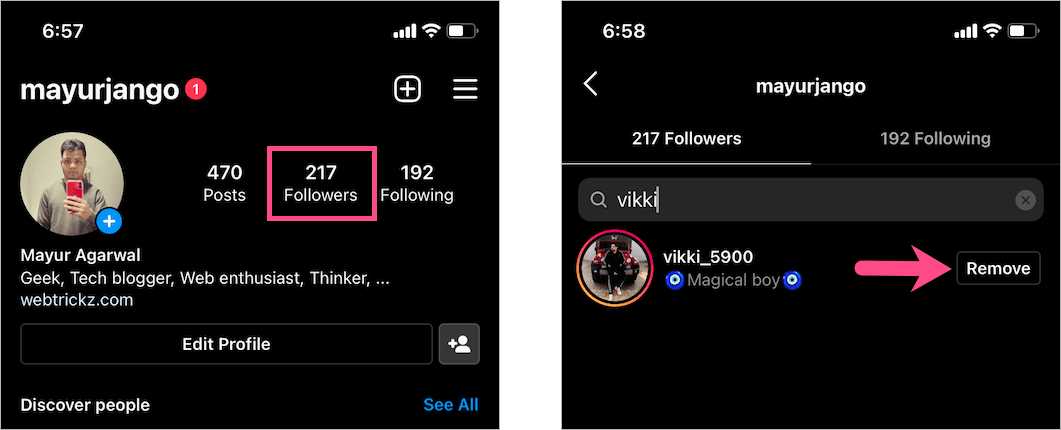 When you remove a follower, Instagram won't tell the certain user that you've removed them.
ALSO READ: How to hide like count on Instagram Reels
How to hide reels from a specific person on Facebook
Unlike Instagram, Facebook lets you choose the default audience for reels. On Facebook, you can set the default visibility setting for future reels. Moreover, one can change the audience for a specific reel prior to sharing or after posting the reel.
Now let's see how you can hide reels from someone on Facebook.
Before sharing
After creating a reel, tap the 'Public' option under Who can see this? on the Share reel screen.
On the Reel Audience page, select 'Friends' if you only want your friends on Facebook to see the reel.
To hide the reel from certain friends, Choose 'Friends except…' and select all the friends from whom you want to hide your reel.
Tap 'Done' at the top-right and share your reel.
After sharing
To edit the audience for a specific reel later, follow the steps below.
In the Facebook app, go to the Menu tab and tap the "Reels" shortcut.
Tap your Facebook profile picture in the upper-right corner.
All your reels will appear under "My Reels". Open the reel whose visibility you want to change.
Tap the '3-dots' button at the bottom-right corner.
Select 'Edit audience'.
Choose your desired audience for the reel.
Tap 'Done' and then 'Change' to make the changes.
Note that if you change the audience of a reel, any other reels using your original audio will be muted.
What's great is that you can share a reel with Close friends only or select 'Only me' to make your reel private.
Set reels default audience on Facebook
Go to the Menu tab and tap Settings & Privacy > Settings.
Scroll down and tap the "Reels" option under the 'Audience and Visibility' section.
Choose the audience you'd like to set as your default audience for reels.
Tap 'Done' to save the changes.
That's it. From now onwards all your future reels will follow the default setting. Though you can always change the audience for a particular reel anytime.
ALSO READ: