I just came to know about an amazing new application which music lovers will like for sure. The app is created by a WinMatrix member 'RUY' who felt the need for it and you will also find his creation pretty useful. Check it below:
Grooveshark Windows Application is a free and small program that allows users to access grooveshark.com directly from their Windows desktop, without needing a web browser. The application is truly awesome and is a real mirror of Grooveshark's online music service. The app is exactly the same as the original Grooveshark with a superb user interface.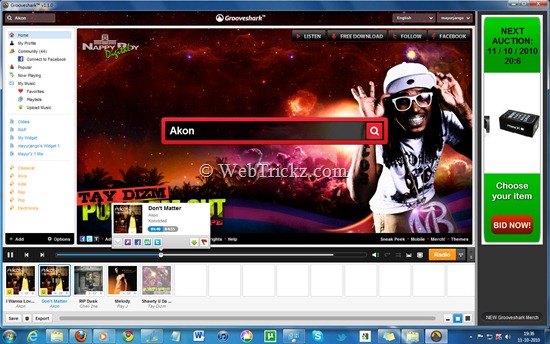 You can use it just like you use Grooveshark from a browser, there is no difference at all. One can search and listen to songs/tracks without registering or you can log in to your Grooveshark account to access your favorite playlists, right from your desktop. Those who often listen to music online will find this app pretty interesting. Do try it out!
Supports Windows 7, Vista & XP properly in all resolutions.
Requires: Microsoft .Net Framework 4 or greater
Download Grooveshark v1.1.1  (220 KB)
Note: The latest version Grooveshark v1.1.1 is showing an error while downloading. It has improved features like: Ads removed, Added Back and Forward buttons, etc.
Source: WinMatrix
Update – Latest version 1.1.1 seems portable (works without installation). To use it, just extract the package and double-click on the Grooveshark icon to launch the App.