Nokia Lumia 900 is an amazing Windows Phone smartphone packed with a beautiful polycarbonate unibody design, features a 4.3" AMOLED ClearBlack touchscreen display, powered by a 1.4 GHz processor, 512MB RAM, 8MP rear camera with Carl Zeiss optics and dual-LED flash, 1MP front camera, a non-removable battery of 1830mAh, 4G LTE, and more. Nokia 900 looks highly similar to Lumia 800 and N9, however, it's considerably bigger than these two and the way to insert SIM in it is a bit different as well.
Just like iPhone, Nokia Lumia 900 uses a Micro SIM (mini-UICC card) which is certainly smaller in size than the standard SIM card and the way to insert SIM corresponds with iPhone. So, let's see how to insert or change the Micro SIM card on Lumia 900 –
1. Take out the SIM door key that comes within the package to unlock the SIM tray. You can also use a paper clip if the SIM eject tool is misplaced.
2. Turn Off your phone.
3. Look for the SIM door on the top side of the phone as shown below.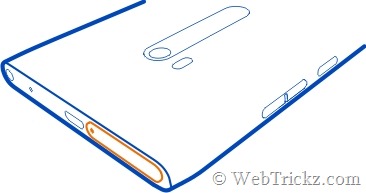 4. Insert the SIM door key into the SIM door hole and push until the SIM tray pops out. Then pull the tray out.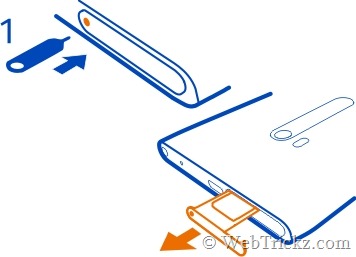 5. Put your Micro SIM card in the SIM tray and make sure the golden contact area of SIM is faced upwards. (Refer to the image below)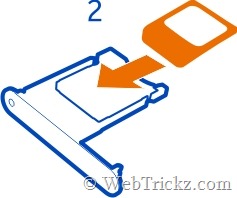 6. Push the SIM tray back into your phone in the same manner until it locks into place.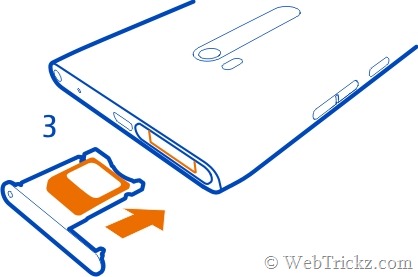 Now turn on your Lumia 900 and it should recognize the SIM. 🙂
~ People with a standard SIM card can cut it into a Micro-SIM either manually or using a SIM card cutter. You can also ask your carrier to do the needful.