Certainly, there are lot of free File Sharing sites that allow users to upload their data to cloud and share it easily with their family, friends, co-workers, etc. However, most services lets you share stuff via their web interface only, which isn't much convenient for users who frequently upload & share files across the web. Luckily, I got to know about a great web service that is a perfect alternative to CloudApp, an app for Mac.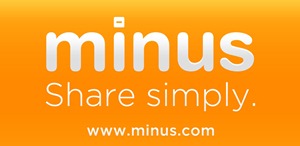 Minus is an amazing and fast file sharing platform that allows users to simply upload, manage and share photos, music, documents and files. It is a cross-platform program, available as a desktop application for Windows, Mac and Ubuntu. Minus is available for popular mobile platforms – Android and iOS (coming soon for WP7), and has browser extensions for Chrome and Firefox. Minus is Absolutely Free! Just create an account at Minus in less than 5 seconds and you're all set to use it efficiently.
Key Features include –
Get 10 GB of free space
Share Large Files up to 2 GB each
Unlimited Downloads and Transfer
Use Dashboard to manage your uploaded stuff
Profile to publish and share your files and folders (example)
Minus is very handy and useful because it makes sharing files real simple & quick. One can easily batch upload files using its web interface or use its desktop app that offers the ability to 'drag and drop' photos and files into the taskbar and instantly upload onto Minus. It currently supports files such as images, PDF, text docs, music and videos.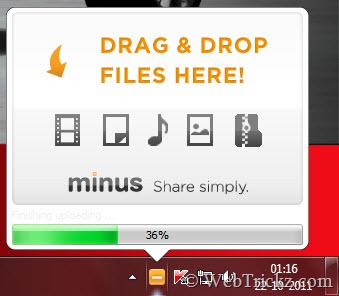 Minus application for desktop comes with built-in Screen Capture support which is indeed a great add-on. Hence, it eliminates the need to first take a screenshot using a dedicated program, then save and lastly upload it to web for sharing. With Minus, just Take screenshot quickly using a user-defined hotkey and it will upload it automatically. Once the file is uploaded, a pop-up shows up and the file share link gets copied to the clipboard which you can share with anyone (Private by default).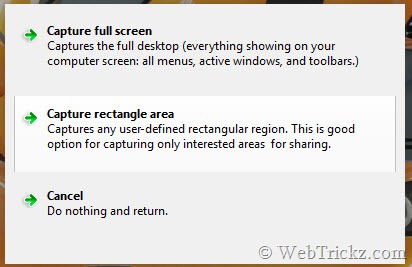 The desktop app has a simple and cool interface, with Dashboard providing access to all the files uploaded and lets you manage them. You can delete files, toggle Public/Private, set a caption for files folder. You can even drag a bunch of files from desktop or explorer to an existing folder or gallery.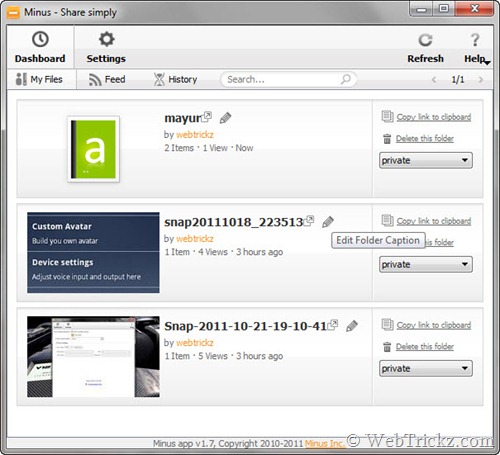 Minus on Web – The web interface of Minus is also pretty impressive and easy-to-use. The Dashboard displays your files, activity, lets you explore and search all the cool publicly shared stuff. You can choose between several display modes and switch between light and dark background with Lights On/Off option. Users can upload files (drag n drop), edit the file name, download files, get a shortlink for your files. It also displays the storage usage, number of folder views and total hits to your profile.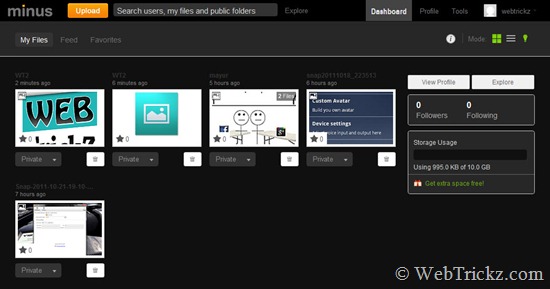 Furthermore, Minus allows you to Edit images in browser with Aviary. You can simply add effects to your photos in just a single click, rotate, resize, crop, remove redeye, sharpen, add text, etc.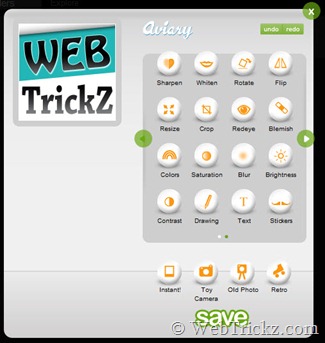 It's Reliable – Minus uses the latest Cloud computing technologies. They are fully deployed on Amazon's EC2 and S3 Cloud storage. Minus keeps all files indefinitely unless deleted by the uploader or if it violates their terms of service.
Minus for iPhone, iPad and Android devices, allows you to upload files and photos to Minus from your mobile device, directly from the app or from the share menu. It keeps a history of uploaded files and galleries. You can login into account to access your files.
Minus Firefox and Chrome extension – Allows you to take screenshots of your browser and auto-uploading them to your account. Additionally you can browse your galleries with this extension.
Download Minus – Desktop App for Windows/Mac/Ubuntu | Android App | iOS App
Goodie – For every friend that joins Minus through your referral, they give you 1 GB of extra space (up to 50 GB). Get 10 GB of Free Space today! [Sign up for Minus]