There are thousands of app launchers available on the Play Store for Android devices. Nova Launcher is one of them that needs no introduction. Nova is one of the most popular and reliable launchers that you can blindly install on your Android smartphone. It packs tons of customization options to let users completely change the look and feel of their device. With Nova Launcher, you also get gestures support, night mode feature, option to hide apps and more.
That said, the option to uninstall apps right from the home screen is missing in the recent versions of Nova Launcher. What you get now is the 'Remove' and 'App info' option when you long-press an app icon on the homescreen. Moreover, a cross icon now appears at the top when you hold and drag app icons while on the home screen. This only lets you remove an app's icon from the homescreen, not uninstall it.
Meanwhile, the Uninstall option is still there when uninstalling an app from the app drawer.
What if you simply want to uninstall the apps directly from your home screen when using Nova Launcher app? Well, that's still possible even if you don't think so.
Delete apps directly from the home screen with Nova Launcher
There are two ways to uninstall or delete apps from homescreen when using Nova Launcher.
Method 1 – Add back the Uninstall button
Nova Launcher includes a setting that allows users to add the missing uninstall option to the context menu of apps on the home screen. You can use it to customize the items of the popup menu for the Home screen as well as Drawer. To do so,
Go to Nova Settings.
Tap 'Look and feel'.
Tap the 'Popup menu' option.
Now enable the checkbox for "Uninstall' under the 'Home screen' column. Optionally, you can add the Play Store and Relaunch option to the popup menu.
Hit Done.
That's it. Now tap and hold an icon on the home screen and the Uninstall option will be visible. Tap it to delete the app forever from your phone.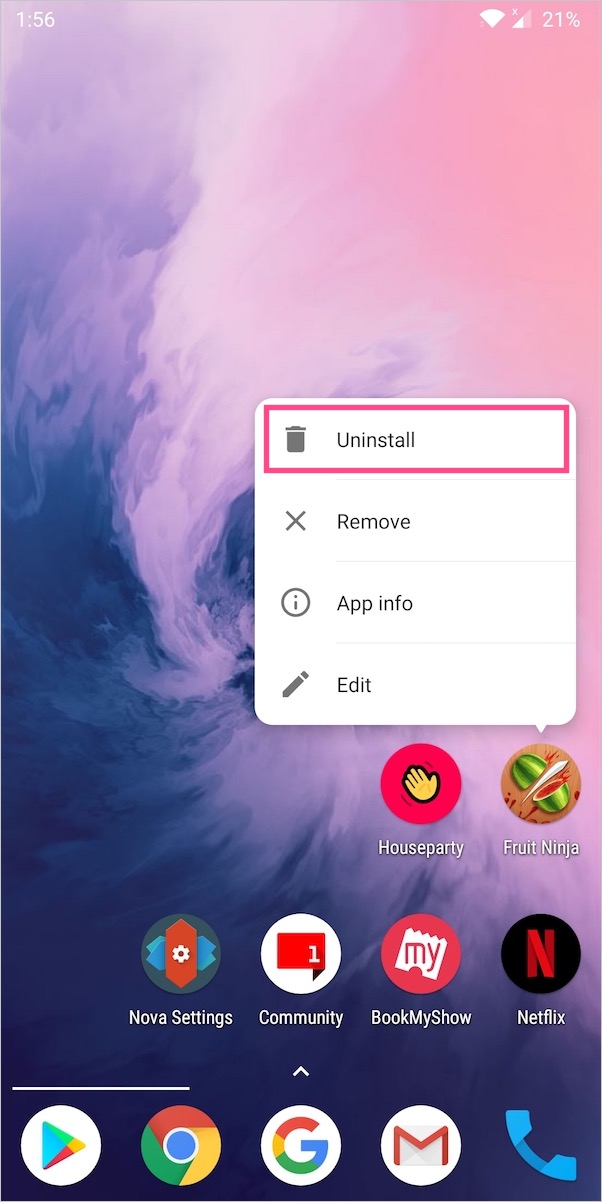 ALSO READ: How to get dark theme in Google Discover on Android
Method 2 – Uninstall apps using App info
If you don't want to add the uninstall button then you can use this method instead.
Long-press an app on your home screen.
Now tap and hold the "App info" option from the context menu.
A pop-up will now appear to uninstall the app. Tap Ok to confirm.
The app will now get uninstalled from your device.
We hope you found this tip helpful.