It is a good idea for social media content creators to share their videos on other platforms as well. For instance, one can share YouTube Shorts videos on WhatsApp to maximize their reach and drive more engagement.
While you can post a Shorts link to your WhatsApp status using the Share option on YouTube. However, it isn't the best way to put YouTube Shorts on WhatsApp status as most people won't bother opening the link. And those who don't have the YouTube app installed (though unlikely) won't be able to watch your Shorts either.
How do I post a YouTube short on WhatsApp without link? Worry not, there is an easy workaround to share or upload YouTube shorts on WhatsApp status. The procedure requires using a third-party app or online service to first save YouTube Shorts to the camera roll and then post the Shorts video to WhatsApp story or status. Doing so will let you share your own or someone else's content.
Now let's see how to download YouTube Shorts for WhatsApp status and post them, both on iPhone and Android.
How to download YouTube Shorts video for WhatsApp Status
Open YouTube and find the short video you want to repost on WhatsApp.
Tap the 'Share' button at the bottom-right and select "Copy link".

Visit a video downloader website like ytshorts.savetube.me (or use the one you prefer).
Paste the link in the 'Paste your YouTube link here' field and it will automatically fetch the link.
Tap the "720p – Direct Download" button and then hit 'Download' to save the YouTube shorts video.

After downloading is over, open the Files app and go to "Downloads".
Open the video you downloaded and tap the "Share" button.
Choose 'WhatsApp' from the share sheet, select "My Status" and hit Next.

Optional: Add a caption, filter, stickers, or text to the video if you want.
Tap the share button to share the Shorts video on your WhatsApp status.
That's it. You can also directly send a YouTube Shorts video to your contacts on WhatsApp.
NOTE: The above screenshots are of iPhone but the process is exactly similar for Android users.
TIP: It is not possible to share videos longer than 30-seconds to WhatsApp status. To overcome this limitation, just share the initial 30-second clip of the video first. Then trim the video accordingly and share the remaining segment in your follow-up status.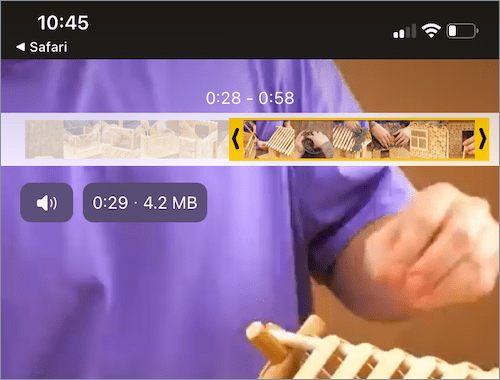 How to download your own Shorts from YouTube
You might be aware that you can download a compressed version of your regular and Shorts videos from YouTube. That said, you simply can't download Shorts from the YouTube app as the download option is only available in YouTube Studio on a desktop.
Follow the steps below to download your own YouTube Shorts video.
Visit YouTube Studio in a web browser on your PC or Mac.
Log in to your Google account if you aren't already.
Go to 'Content' (in the left pane) and locate the Shorts video you want to download.
Hover your mouse over the video thumbnail and click the Options menu (3-dot icon).
Click the 'Download' option.
Voila! The particular video file will then be saved to your computer in MP4 format. Since WhatsApp Web doesn't allow sharing of status, you can transfer the video to your phone and then upload it on your WhatsApp status.
Disclaimer: Downloading YouTube videos illegally violates YouTube's TOS. However, downloading and using YouTube videos for personal use and non-commercial purpose is deemed as Fair Use. We advise you to get permission from the owner before you repost their content.
RELATED TIPS: