The Samsung Galaxy Tab is an Android based tablet and rooting the Galaxy tab is really simple. Rooting has its advantages like full access to system, ability to install the non-available apps which require root. z4root is a one-click root app from XDA Developer RyanZA, which makes rooting Android devices a piece of cake.
How to Root Samsung Galaxy Tab with z4root –
1. Download z4root from Android Market or use QRcode and Install it.

2. Enable USB debugging by pressing the Menu button, then tap Settings > Applications > Development > USB debugging.
3. Launch z4root and press the "Root" button.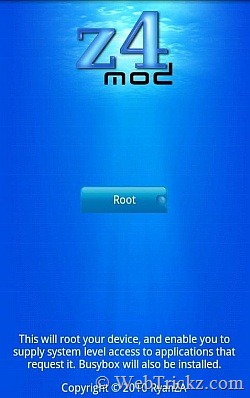 4. The Tab will restart. Run z4root again to check if the rooting process was successful. If rooting was a success, then you'll see a new Superuser app in your app drawer/tray.
Note: Rooting the device will void its warranty and do this at your own risk.
via [pocketables]