Introduced in late 2016, Facebook Marketplace is a convenient place to buy and sell items with people in your community. In Marketplace, one can even find local listings listed for sale by people near you. These include products from various categories such as Apparel, Electronics, Household, and Entertainment.
The Marketplace also has a Save feature that people often use to save items that they find interesting. By saving an item, you can easily find it later and see if the price drops in the near future. People also save items just to track their prices as Facebook sends a notification when the price changes.
Facebook Marketplace not showing saved items
Though one can easily save items on Marketplace, there doesn't seem a way to view the saved listings. Well, if you can't find saved items on Marketplace then you aren't alone. That's because the setting to view saved items isn't directly accessible, both on the Facebook app and website. As a result, most people assume that their saved items have disappeared from Facebook Marketplace.
This isn't true though. The "Saved" option is simply buried a bit inside the Marketplace interface, thus making it uneasy to locate.
Now let's check how you can see saved items on Facebook Marketplace, both on mobile and desktop.
How to find your saved items on Facebook Marketplace
Important – Update the Facebook app to the latest version.
In the Facebook app, tap the menu tab and open "Marketplace".
On the Marketplace page, tap the profile icon at the top-right corner.
Tap on "Saved items".
Under the 'All items' tab, you can view all your saved products on Marketplace in chronological order.

List of Saved Items on Facebook Marketplace
NOTE: The above steps are the same for both iPhone and Android.
On Desktop
Visit facebook.com in a browser on your computer.
Go to "Marketplace" from the sidebar on the left.
On the Marketplace webpage, click "Buying" on the left side.
Under 'Buying', open the "Saved" option.
Here you can find all the listings in the exact order you saved them.
Alternative Way – You can also directly visit the webpage: facebook.com/marketplace/you/saved
How to delete saved items on Facebook Marketplace
To remove a saved item from Marketplace, follow the steps below.
In the Facebook app, tap the Menu tab and go to "Saved".
Under 'Most Recent', tap the "See All" button.
Tap the "All" drop-down menu at the top-right and select "Products".
Tap the ellipsis button (3-dot icon) next to the particular item you want to delete.
Select the "Unsave" option. Then tap "Remove" to confirm.
Alternatively, you can go to a certain item listing and tap the "Saved" button to unsave the item.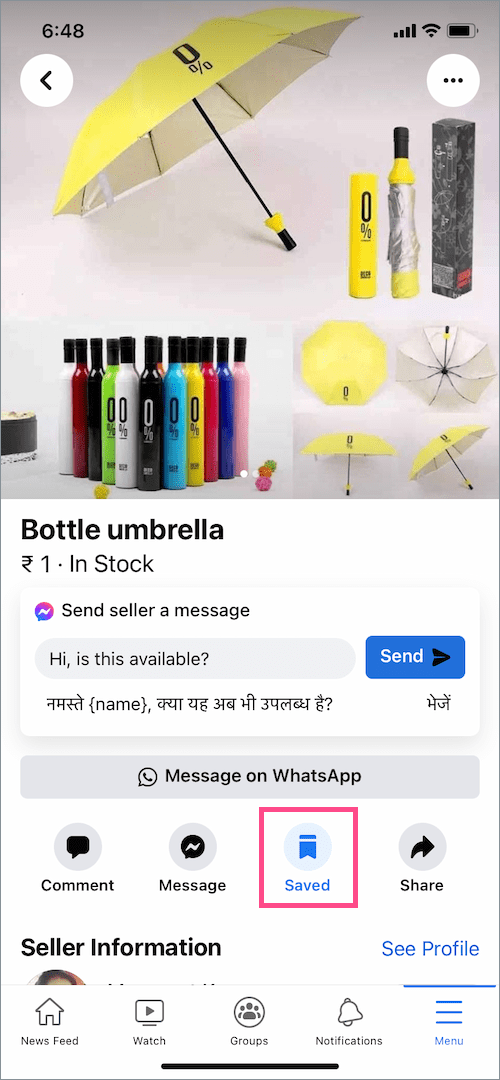 Unfortunately, there is no way to delete all the saved items from Facebook Marketplace at once.
ALSO READ: How to See Your Liked Reels on Facebook