An invoice is a bill or receipt that you get when you buy a product online or offline. You must retain the product invoice which serves as proof of purchase and is required while claiming the warranty or replacement. Consumers may also need it when filing their taxes and in order to claim VAT or GST on their purchases. Now all those who buy from eCommerce platforms usually get a soft copy of the bill that can be printed later. Sometimes a tiny receipt comes with the delivery package but that's actually a shipping label and you should not confuse it with an actual invoice.
In the case of Amazon, users don't get a printed invoice or order receipt with the shipment especially for Amazon Fulfilled orders. Hence you need to download it from Amazon's website. However, if you've placed an order from Amazon.com then you can access your invoice for the shipping confirmation email itself. While for orders made on Amazon.in, buyers can only get the receipt by logging into their Amazon account. Note that you need to log into the same account from which you've placed the order.
How to Download Amazon Invoice
Without further ado, let's find out how you can download Amazon order invoices on your mobile and desktop. The steps slightly vary for Amazon.in and you should follow them accordingly.
On Amazon.com
Visit amazon.com and log in to your account.
Click on the "Orders" option at the top right.
From the dropdown tab, select the year when you placed the order. Or use the search bar to search for all the orders easily.
Click "Order details" for the order.
Now click "View or Print invoice".
Click "Print this page for your records" on the top of the invoice to print it.
Tip: While printing, change the destination to "Save as PDF" in Chrome browser to save the invoice in PDF format.

Using Email Account (Alternate Method)
If your Amazon.com account is blocked for some reason then you can access the invoice via email.
To do so, log in to the same email account which is registered with your Amazon account. Go to Inbox and type in "Amazon order product name" in the search email tab. For example, enter "Amazon order fire tv stick" in the search to filter the relevant results.

Look for the item shipped email and open it. Now scroll down to the bottom and locate "Your invoice can be accessed here." Click on the "here" hyperlink to directly open the invoice without going to Amazon.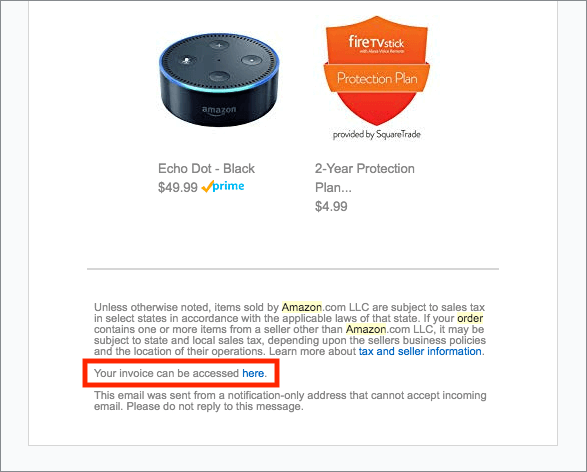 On Amazon.in (For Indian users)
Head over to amazon.in and sign in to your account.
Go to "Your Orders" and select your orders.
Search for the order or select year from the dropdown menu.
Click the "Invoice" link next to the order you want an invoice for.
Click Invoice 1 or Invoice 2 to download the invoice as a PDF.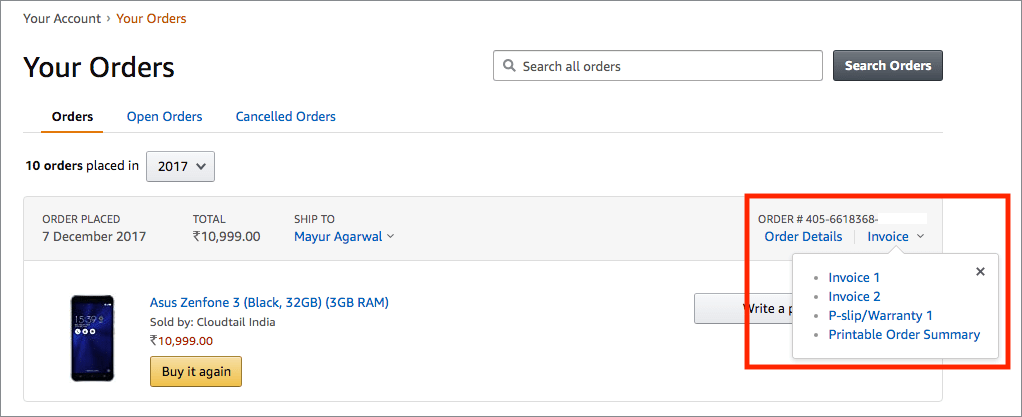 Note: Also download the "P-slip/Warranty 1" document which bears the IMEI number in case of mobiles and tablets. It's required when claiming the warranty from authorized service centers along with the invoice.
ALSO READ: How to switch between accounts on Amazon
Downloading Amazon Order Invoice on Mobile
Currently, it is not possible to print the invoice using Amazon's app for iOS and Android. However, you can use a mobile browser such as Google Chrome to download Amazon invoices on mobile. The steps are the same as stated above. Refer to the above screenshots to download an invoice from Amazon on your phone.