Despite being one of the most popular social networks, Instagram hasn't yet bothered to launch a dedicated app for iPad. This is surprising considering the iPad ecosystem and also disappointing for people who prefer to use tablets for social networking.
Apparently, the only way you can get Instagram on iPad is either by installing the iPhone version or accessing it through a browser.
Instagram iPhone App vs Progressive Web App (On iPad)
That said, the iPhone version of Instagram makes for a bad user experience on the iPad's big screen. The reason is that the app is significantly small in size and has outdated elements as compared to the iPhone app.
Moreover, it fails to utilize iPads' screen real estate even if you scale up the app size, and doing so results in a poor resolution. What's surprising is that there is no support for landscape mode either.
Instagram Progressive Web App for iPad
Fortunately, there is a simple workaround to experience Instagram on an iPad in a relatively better way, if not the best.
You can do so by installing Instagram's progressive web app (PWA) on your iPad. It's apparently the best way to make Instagram app full screen on iPad. The PWA works pretty well on iPad and without Safari or Chrome browser.
Unlike the iPhone version, it expands across the entire screen, and that too in high resolution. The web app also lets you view Instagram in landscape mode on the iPad, something that isn't present even in the native app.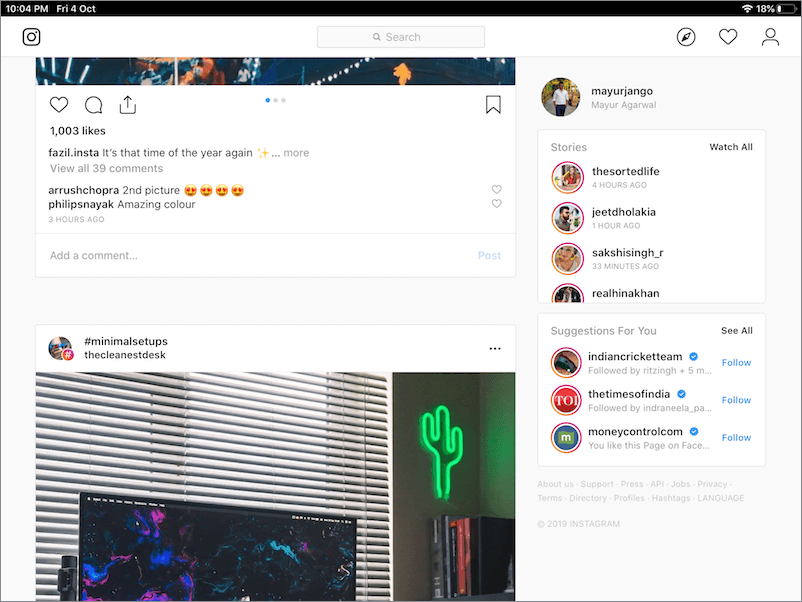 Needless to say, there are a few shortcomings too since this is a web app and not a native app for iPad. For instance, you cannot post an Instagram story using the web app. You can, however, view stories, profiles, and posts of people you follow on Instagram.
In addition, you can like posts, search profiles, discover people, add comments, follow or unfollow users, view notifications, access your profile, and much more.
ALSO READ: How to automatically change Instagram to light mode on iPhone
How to get Instagram in full screen on iPad
Without further ado, let's see how you can install the Instagram web app on the iPad.
In iOS 13, visit instagram.com in Safari.
Tap the "Share" button and select "Add to Home Screen".
Open the Instagram web app from your home screen.
Log in to your Instagram account.
That's it. You can now explore Instagram, both in portrait and landscape mode.
We still hope Instagram releases a native app that's tailored especially for iPad. Until then, this web app is a great alternative for iPad users unless they want to share stories.
Tip credit: @joshuamarino
ALSO READ: How to watch YouTube Shorts on iPad