Google Drive doesn't offer native functionality to password protect files and documents including PDF files, Google Docs, and spreadsheets. Users neither have the option to password protect a Google Drive folder. Thankfully, Amit Agarwal, a Google Developer Expert has created "PDF toolbox" to get over this certain limitation.
PDF Toolbox is an addon for Google Drive that allows users to add password protection to PDFs and Google documents. The app also lets you decrypt or remove passwords from PDF using Google Drive. Thanks to PDF Toolbox, now you won't have to first download a file to your computer in order to encrypt or decrypt it with a dedicated program. You can simply protect your documents from within Google Drive's interface. Besides encryption, one can add restrictions for printing and commenting to a PDF.
The only downside is that the PDF toolbox needs to convert native Google documents such as Google Docs, Sheets, and Google Slides to PDF before encryption. If you're primarily dealing with PDFs then you shouldn't worry about losing the native file format.
NOTE: You cannot select PDF files or Google files exceeding 10MB as Google Drive imposes a limit of 10 MB file size.
Now let's see how you can password-protect a PDF, Excel file, or Google Docs document in Google Drive using PDF Toolbox.
How to encrypt PDF files in Google Drive
To password protect a PDF in Google Drive, follow the steps below.
Install the PDF Toolbox add-on and grant it the necessary permission.
Choose a Google account and hit 'Allow' to allow PDF toolbox to access your Google Drive files.
After installation, PDF toolbox will be added to Drive's sidebar. If you can't see the sidebar, just click the 'Open side panel' button at the bottom-right corner. 
To encrypt, select a PDF file or Google document in Google Drive and click the 'PDF Toolbox' icon in the sidebar.
Click 'Authorize' to grant access to the selected file. You need to authorize every time you want to encrypt or decrypt a file.
Now expand the "Encrypt PDF" section. Input the output file name, enter a password and select whether you want to allow printing and comments on the encrypted file.
Click the "Encrypt" button to add password protection to your PDF.
Once the file is encrypted, it will be automatically saved as a separate file in your Google Drive directory. Open the file and it will now require a password to open. Meanwhile, you can also download the protected file or directly email the file as an attachment to the desired person.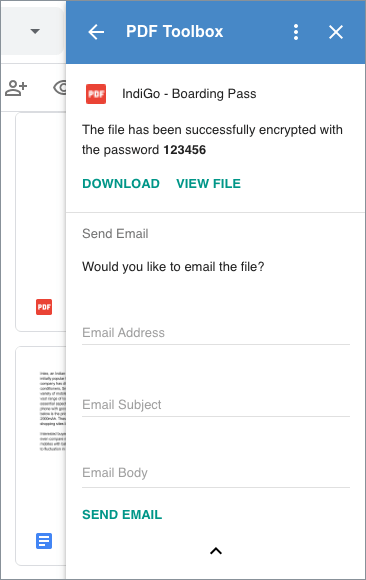 How to remove password from PDF in Google Drive
To unlock a PDF in Google Drive, the steps are similar.
Selected a password-protected PDF in Google Drive and open the 'PDF toolbox' app in the sidebar.
Authorize PDF Toolbox to access the encrypted file.
Expand the "Decrypt PDF" section and enter the password that you earlier used to lock the PDF file.
Click the "Decrypt" button and all PDF restrictions will be removed if the password is correct.
The unlocked PDF file (without password protection) will be uploaded to your Drive as a new file.
How to lock Google Drive app on iPhone
It is not possible to password protect a file or folder in Google Drive app on the iPhone or iPad. You can, however, secure Google Drive using Face ID or Touch ID on your iOS device. This way you can prevent unauthorized access to the Google Drive app on your iPhone.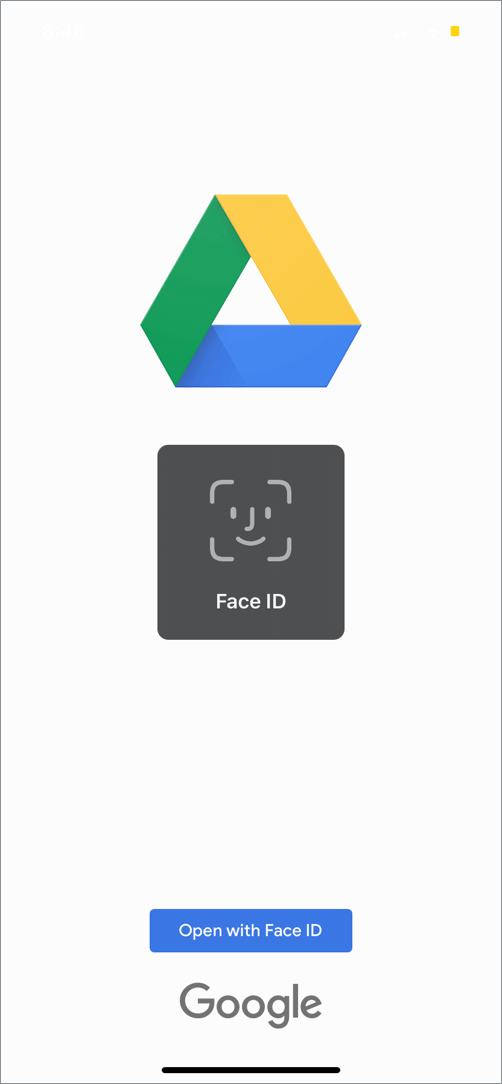 Check the steps below to lock Google Drive on the iPhone and iPad.
Make sure the Google Drive app is updated to the latest version. [Refer: Updating apps on iOS 14]
Open the Google Drive app and tap the menu button (hamburger icon) at the top left.
Tap Settings > Privacy Screen.
Turn on the toggle button next to 'Privacy Screen'.
Tap the 'Require Authentication' option and select 'Immediately' if you want Drive to lock instantly after you switch to a different app.
Google Drive app will now require Face ID or Touch ID authentication whenever you access it.