Instagram Reels is a great platform for creating fun and entertaining short-form video content. Users and creators also prefer sharing their reels on other social media platforms like Facebook and WhatsApp.
Although you can easily save or download your own reels to the camera roll without sharing. That said, reel videos saved before publishing are saved without audio to the gallery.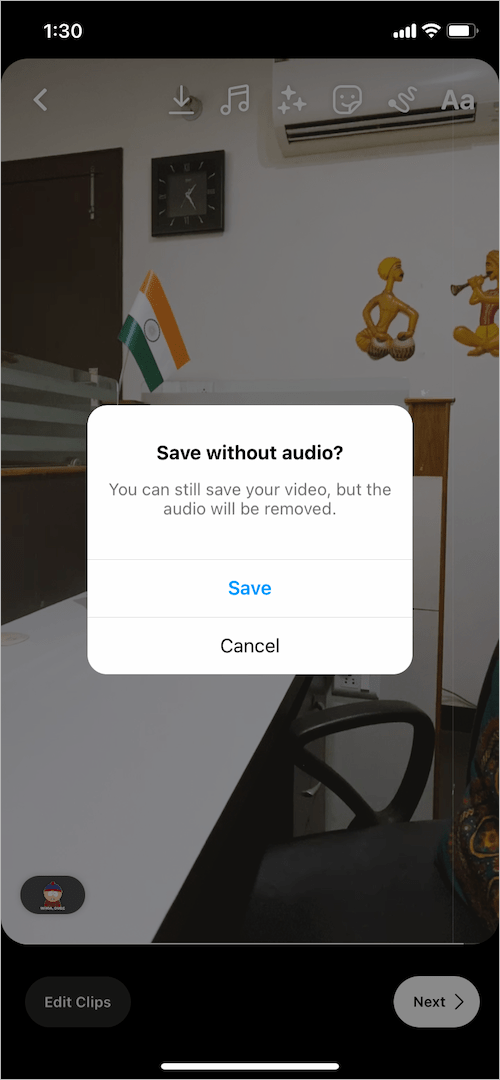 Why can't I save my reels with audio?
Instagram possibly removes audio when people save reels without posting to avoid copyright infringement of music.
Well, that makes sense as proper attribution is given to music in reel videos which otherwise won't be possible. At the same time, users wanting to save Instagram reels with music without posting find this limitation annoying.
Can you save reels without posting?
Both Instagram and Facebook allow users to download their own reel videos without sharing them publicly. However, there is no official way to save Instagram reels in the gallery with music without posting.
Luckily, we've figured out a workaround to save reels with audio but without posting.
The trick involves using the Reels feature on Facebook to save Instagram reels with audio in the gallery without posting. This is possible because, unlike Instagram, Facebook surprisingly allows users to save their reels to camera roll with audio.
Moreover, both Instagram and Facebook share a common music library for using music in Reels and Stories. This means an audio track you added on Instagram is also available on Facebook and vice-versa.
Without further ado, let's see how you can download an Instagram reel with audio without posting and without using any app.
How to save Instagram reels with audio in gallery without posting
Step 1 – Create your reel on Instagram
Record the reel using the Instagram app.
Apply any effects, filters (use two filters), stickers (add disappearing stickers), or add text to your reel.
After making necessary edits to your reel video, tap the 'Download' icon at the top to save the reel without audio (camera audio is also removed).
Optional: Tap 'Next' and save the reel as a draft.
Step 2 – Add Music to your reel on Facebook
Open the Facebook app and tap the 'Create reel' option.
Select the reel video from your camera roll that you saved earlier to your device.
Tap the "Audio" tool from the editing pane and select "Add Music". You can also add a voiceover or mute the original sound.
Browser or search for the specific audio track (or artist) you want to add to your reel.
To choose a particular portion of the audio, go to 'Audio' and tap 'Edit' next to the audio track.
Hold and drag the slider to choose the highlighted portion of the audio clip for your reel. TIP: Tap the 'Stars' on the slider to add the most popular parts of the song in Reels.
Hit 'Done' after selecting the desired part of the audio track and tap 'Done' again.
Tap the 'Next' button at the bottom right corner.
Tap the 'Download folder' button at the bottom left and select 'Download' to save the reel with music to your device's camera roll.
That's it. You can now share the reel directly or on a different platform and it even won't have the reel watermark.
The only downside is that you can't access your Instagram Saved Audio library on Facebook to choose one of the saved music tracks.
Hope you found this tip helpful.
RELATED: How to download audio from Instagram reels to phone