Spotify has recently introduced Smart Shuffle, a new play mode for its Premium users on iOS and Android. Smart Shuffle replaces Enhance and offers personalized recommendations for user-curated playlists. By enabling it, users can discover new music and enjoy fresh listening sessions.
What is Smart Shuffle on Spotify?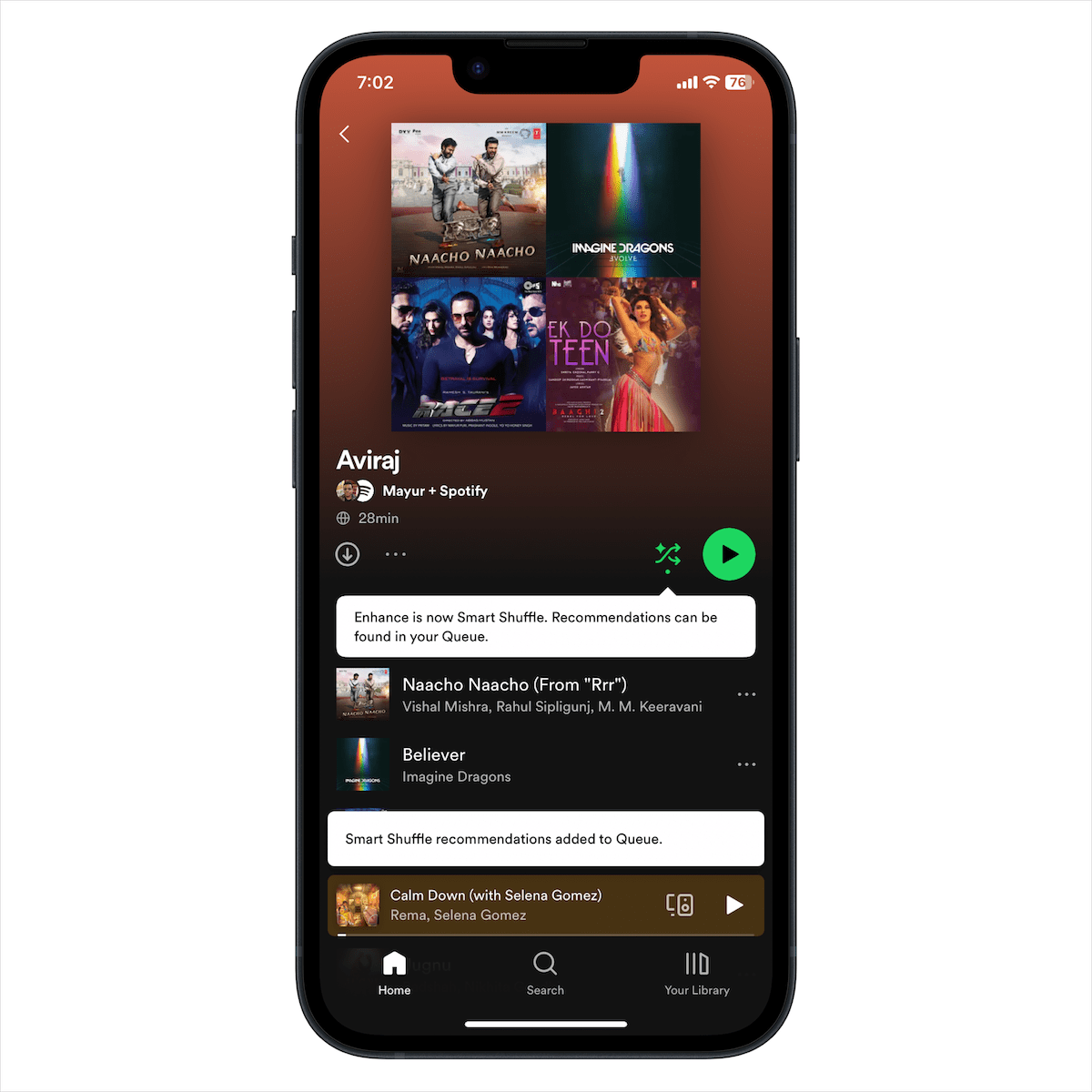 The Smart Shuffle mode mixes perfectly tailored suggestions into an existing playlist on Spotify and even your Liked songs. However, it doesn't make any changes to your original playlist. A Sparkle symbol also appears next to the added songs, so you can easily spot any recommendations in your queue.
Users can tap the plus button in the Now Playing view to save a recommended track to their playlist. Similarly, tapping the minus button removes the particular track from the recommendations. Spotify then uses your likes and dislikes to serve better suggestions the next time you listen to a Smart Shuffle-enabled playlist.
Why turn off Spotify's Smart Shuffle mode?
Do you find this change annoying and want to get rid of Smart Shuffle on Spotify? Apparently, a lot of users are hating the new Smart Shuffle feature because of bad UX and forced integration.
Shuffle, a standard function across all music players is now harder to use because it packs two different modes – Shuffle and Smart Shuffle. Also, the heart icon to like a song is now replaced with a plus button.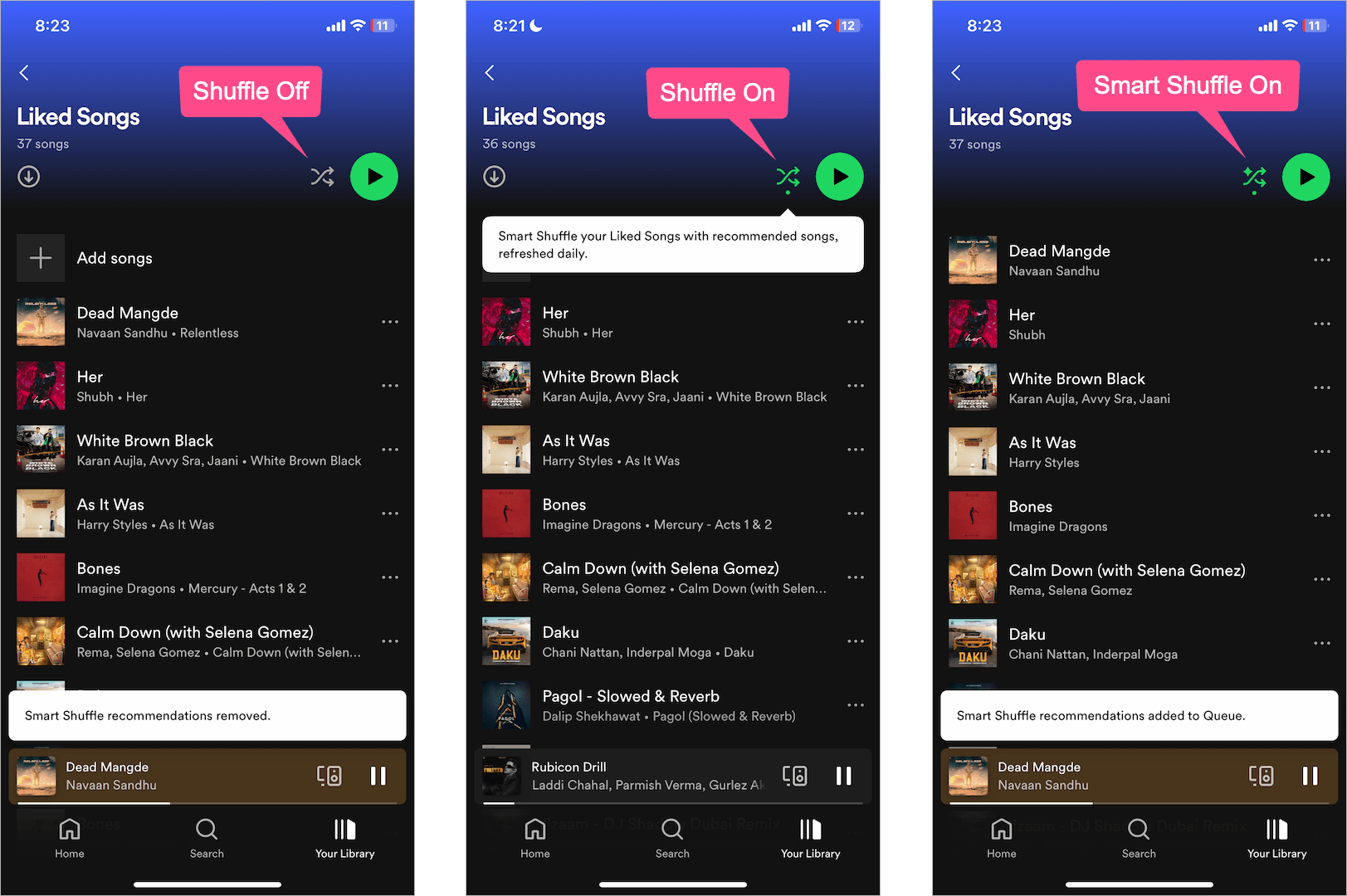 While Enhance had a dedicated button, Spotify chose to merge Smart Shuffle with the Shuffle button. Hence, you need to use the Shuffle button to switch between regular play, Shuffle mode, and Smart Shuffle. This change surely makes it difficult to access and use the Smart Shuffle mode, more so for older and non-tech-savvy users.
When enabled, Smart Shuffle hides song suggestions in the queue and you've to repeatedly press the Shuffle button to disable Smart Shuffle on Spotify. The way the Shuffle button works isn't intuitive and user-friendly, to say the least. Meanwhile, the old Enhance button was a lot easier to toggle on or off.
How do I remove Smart Shuffle and switch back to Enhance on Spotify?
While you cannot get back the Enhance feature, you can turn off Smart Shuffle on Spotify for a smooth listening experience. That said, there is no option in the app settings to disable Smart Shuffle completely.
Now let's see how Spotify Premium users can turn off Smart Shuffle mode on iPhone and Android.
How to disable Smart Shuffle on Spotify
Go to the 'Your Library' tab and open the desired playlist.
When Smart Shuffle is enabled, the shuffle icon appears green with a sparkle icon at the top.
To turn Smart Shuffle off, tap once on the shuffle icon and it will switch from Smart Shuffle to regular playback.
That's it. The shuffle icon at the top of your playlist will now turn grey/white, indicating the shuffle mode is off altogether.
Moreover, a popup saying 'Smart Shuffle recommendations removed' will show up at the bottom. Besides, + Spotify appended to the owner name (under the playlist name) won't be visible anymore.
In a similar way, you can switch off Smart Shuffle directly from the Now Playing view.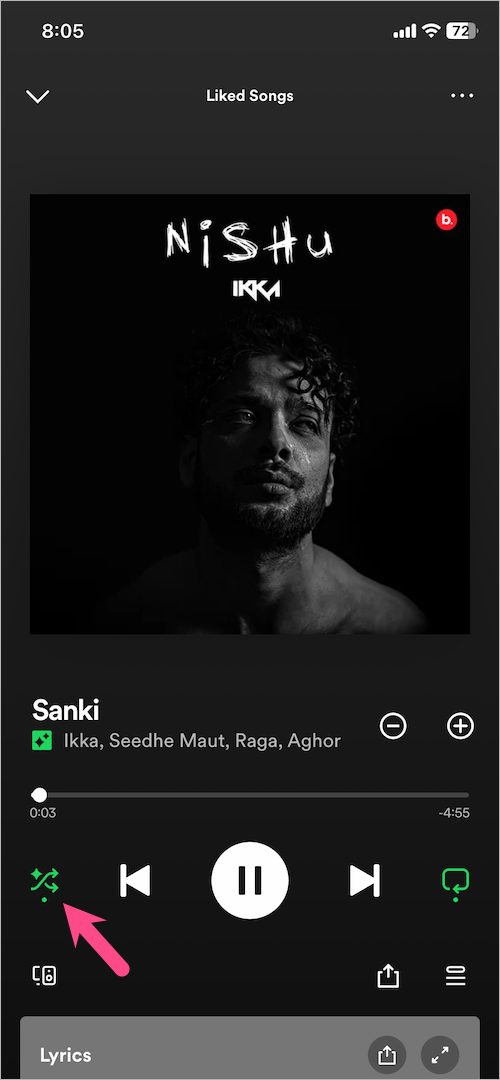 How to use normal Shuffle mode in Spotify
To turn on Shuffle in the Spotify app, go to the Now Playing screen or the top of a playlist. To shuffle a playlist without Smart Shuffle, tap the Shuffle button once while the icon is grey/white. A green shuffle icon (without the sparkle symbol) means the shuffle mode is on.
To switch from Shuffle to Smart Shuffle, tap the shuffle icon once. Smart Shuffle will now turn on with a spinning loading animation and a popup will appear saying 'Smart Shuffle recommendations added to Queue'.
ALSO READ: How to get out of Offline Mode on Spotify