Instagram Direct Messenger offers various features such as audio and video calling, Vanish Mode to send disappearing messages, custom reactions, and chat themes. Besides, you can send voice messages, see the timestamp, reply to specific messages, or send a silent message without notification. That said, until now, there was no option to search or filter within Instagram Direct Messages. This was a big limitation as people had no way to find a particular phrase or word in a chat on Instagram.
Want to see an old message on Instagram chat without scrolling through and manually looking for it?
Fortunately, Instagram finally allows users to find messages by searching a chat conversation. The app now includes a new 'Search in conversation' feature to easily search words in Instagram chats like WhatsApp and Messenger. Apparently, the ability to search for a particular message on Instagram DM is currently available only for iPhone. I feel Android users should be getting it soon.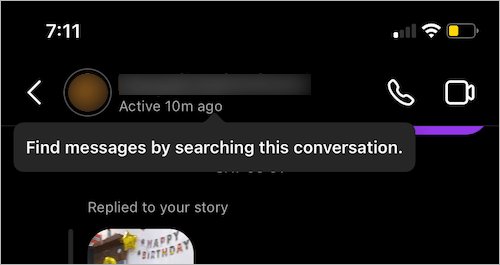 Thanks to this feature, you can quickly search across Instagram chats including old chats and group chats. Whereas earlier one could only filter Instagram messages by contact. However, you still cannot search messages by date and the web version of Instagram has no option for chat search.
When you search for a message on Instagram DM, the message date is also shown, and tapping the search result takes you to its original place in the chat.
Now let's see how you can search Instagram messages for keywords on iPhone.
How to search for a specific message on Instagram 2022
Make sure to update Instagram to the latest version.
Tap the Messenger icon at the top-right corner of the 'Home' tab.
Open an individual conversation or group chat.
Tap the person's name at the top.
Under More actions, tap on "Search in conversation" to search text in Instagram chat.
To search for words in Instagram messages, type a word or keyword in the search box at the top and tap the 'search' button.
All the chat messages containing your search term will appear in reverse chronological order.
Tap a search result to view the specific message within the chat conversation. The search term will also be highlighted.
NOTE: The above steps are applicable to iPhone, but should be similar when search in Instagram DM arrives on Android.
RELATED TIPS: